News Release
Reed N. Wilcox Named President of Southern Virginia University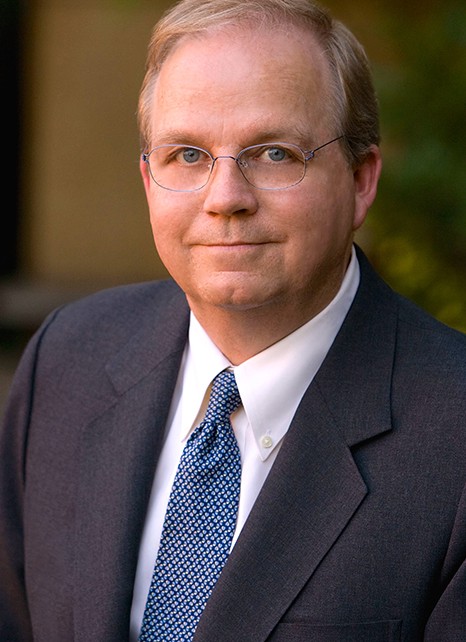 The Southern Virginia University Board of Trustees today announced that Reed N. Wilcox, co-founder of Clene Nanomedicine, former partner and director of The Boston Consulting Group, and former president of the France Toulouse and Marseilles Missions of The Church of Jesus Christ of Latter-day Saints, has been unanimously approved and appointed as the university's new president.
"Southern Virginia University is unique — a fine, friendly, fully accredited small liberal arts university with outstanding faculty, small classes, and great young men and women, fully committed to the highest moral and ethical standards," said President Wilcox. "It has a wonderful mission and a great destiny — and we should expect great progress in the next years. It's a great option — a privilege — for students who really want to succeed. I believe most students here thrive and are happy, regardless of how they felt about school before — and are more fulfilled here than anywhere else they might have chosen."
President Wilcox co-founded Clene Nanomedicine, an advanced nanotechnology company. Clene is pioneering a new class of medicine using nano-forms of proven therapeutic ingredients that until now have been available only in highly toxic small molecule drugs. Clene is poised to enter clinical trials in diseases of high medical need in neurology and cancer. He will continue to serve on the Clene Board and as a senior advisor. Prior to Clene Nanomedicine, President Wilcox was co-founder and senior managing director of General Resonance, the parent company of Clene.
Earlier, President Wilcox was a worldwide partner at The Boston Consulting Group — a global leader in corporate strategy, which is now a multi-billion dollar professional service firm — where he worked for many years at the most senior levels of leading companies in the U.S., Europe and Asia.
He also co-founded and served as managing director of The Flagship Group, creating joint venture innovation partnerships with large corporations and investment firms. He then worked as CEO of The Lifelike Company until resigning to serve a three-year mission as president of the France Marseille and Toulouse Missions of The Church of Jesus Christ of Latter-day Saints.
President Wilcox has worked with companies and institutions in fields as diverse as aerospace, power engineering, medical devices, hospitals, cultural education, consumer products, and pharmaceuticals. He holds 23 U.S. patents. He has lived and worked internationally for more than 10 years in Europe, China, Japan and West Africa.
President Wilcox completed the Harvard University JD/MBA Joint Program, earning a juris doctor degree cum laude from the Harvard Law School, and a master's degree in business administration with High Distinction as a Baker Scholar from the Harvard Graduate School of Business. As a National Merit Scholar, his undergraduate work was at University of California, Los Angeles and then Brigham Young University, where he graduated summa cum laude in economics and with Highest Honors from the Honors Program, and served as student body president.
His wife, Diane Kimball Wilcox, holds both bachelor's and master's degrees in communicative habilitation from Brigham Young University. She was admitted to the Ph.D. program in this field at Northwestern University. She and President Wilcox are the parents of four young adult children.
"President Wilcox brings 30 years' experience helping companies and non-profit institutions reach their full potential by building strategic vision, organizational trust and operating excellence, and a culture of innovation, together with outstanding academic credentials during graduate work at Harvard," said Glade M. Knight, chair of Southern Virginia's Board of Trustees. "His leadership experience at the highest levels of business, and in service to the community and the Church, will bless this university and all those associated with it. I'm confident he will build on Southern Virginia University's legacy as a fine small liberal arts university with top quality education and a friendly Latter-day Saint environment."
Southern Virginia University combines the finest aspects of an exceptional liberal arts education, a friendly and caring community, and a culture that embraces the values of The Church of Jesus Christ of Latter-day Saints.
Southern Virginia is home to the largest daytime LDS Institute of Religion program east of Utah, and to a highly active Young Single Adult Stake of the Church.
With a current enrollment of more than 700 students, the university plans to grow the student body to about 1,200 students. The university offers a first-class educational experience with small classes and meaningful extracurricular activities, including NCAA Division III athletics and performing arts, where everyone can be involved. The university's graduates have an admittance rate of over 90 percent to graduate schools of medicine and law. More than 40 percent of all graduates have attended graduate school.
An internal announcement regarding President Wilcox's appointment was delivered to a capacity crowd of faculty, staff and students at the Southern Virginia campus on Friday, Aug. 29, prior to Labor Day weekend.