Spotlight
Professors Mentor Alumnus for Success in Notre Dame Doctoral Program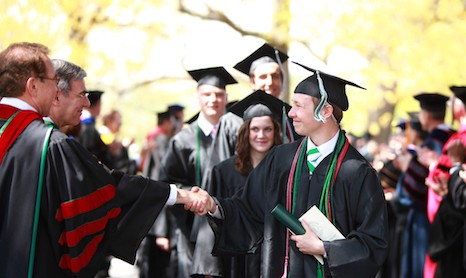 Robert Burton ('13), a Southern Virginia University graduate, is currently attending a prestigious doctoral program in political science at Notre Dame University.
His studies at Notre Dame are focused on constitutional law, with classes taught by both political theorists and law professors. At Southern Virginia, Burton majored in English and politics. Upon graduation, he was distinguished as a Barrus Scholar — an award bestowed annually by the university's faculty on two graduates who have embodied the liberal arts in their work at Southern Virginia.
During his time at Southern Virginia, Burton took advantage of the intimate class sizes and the chance to get to know professors personally — what university leaders call "the genius of small" — to seek out faculty members who could guide and mentor him.
"I was looking for a place where I could find mentors," Burton said, describing why he choose to attend Southern Virginia. "Not just someone to lecture, but someone who could guide my learning."
He found mentors at Southern Virginia who took a real interest in his learning and his academic success. One such mentor was Dr. Randall Cluff, professor of English.
"He took a literature course from me and got so excited about reading poetry that he decided to major in English in addition to political science, which was his first major," Cluff said. "In a lot of ways, Rob was the ideal student. There was nothing about him oriented toward the minimum. He conscientiously prepared for class. He was disciplined. He was intellectually alive. And he was more concerned about understanding than looking smart. He wasn't invested in defending his intelligence; that's far from who Rob is."
Burton also viewed Dr. Jeremiah John, associate professor of politics, as a mentor.
"He's really good at understanding abstract concepts and theories," John said of Burton. "He's really good at understanding academic texts. And he's also really good at being able to understand difficult ideas and theories and being able to explain them in the context of a discussion."
John received his doctorate degree at Notre Dame and commented on the program that Burton is now attending.
"Notre Dame is a really great place," he said. "They're a top ten political theory program and they have been since I've been there. With a Ph.D. program, I think it has to fit your personality a lot more than if you're going to a professional program. I think it's a great fit for Rob and his personality."
Burton was accepted into other prestigious graduate programs at the University of Chicago and University of Tornoto, but ultimately decided on the program at Notre Dame because he "felt like that was where [he] was supposed to be." He emphasized how his undergraduate experience at Southern Virginia had prepared him for further study.
"When it comes to getting into graduate school the advantages [of Southern Virginia] were twofold," Burton said. "One was the content that prepared me for standardized tests and for writing my own statements. The second part was receiving letters of recommendation, which was really invaluable."
John said that Burton's preparation included experience working on important academic projects.
"I do think that Rob was helped by the opportunities he had to get to know teachers and work on a significant research project," John said. "He got to learn what it's like to be an academic. You get to learn that at a small school. He took a lot of great classes and he knows all kinds of important texts. He'll be as prepared as anyone else at Notre Dame."
Burton described the classes and coursework at Notre Dame as "really similar" to the kind of education he received at Southern Virginia.
"Grad school is more like Southern Virginia than any large undergraduate institution," Burton said. "[At Southern Virginia] we read and read and read. Consistently in the classes we read original works, whether it was in politics or literature or philosophy. … What's different is that somehow they expect papers twice as long and they expect twice the reading. I walk across campus with so much to read that I literally have to read while I walk, but I'm so happy because that's what I'd love to read anyway."
He said that his advice to other students at Southern Virginia was to "take professors, not classes."
"If you really seek them out as mentors they'll guide you in your preparation for graduate school," he said. "They'll guide you in your learning. Seek out great professors and learn from them."
He and his wife, Naomi Burton ('12), have two children, Peter and Mary.