Spotlight
Professor, Alumni Present at National Council on Family Relations Conference
This semester, Dr. Ariel Rodriguez, associate professor of family and child development at Southern Virginia University, and two university alumni attended the annual National Council on Family Relations conference to discuss their research analyzing gender chapters in textbooks.
Chantri Waddoups ('11) and Caitlin Tyree ('13), who both majored in family and child development at Southern Virginia, attended the conference. Another alumnus, Lucas Reynolds ('13), spent a significant amount of time on the project while a student, but was unable to attend the conference.
"It was a student-driven project and it would have never happened if it wasn't for their initiative," said Rodriguez. "I think it was good for the students to be able to be involved in a research project from beginning to end. They participated in all aspects of the project including locating the books we analyzed, developing the codes that we used to analyze the content of the chapters, reading and discussing the material, and attending the conference."
For their research, they analyzed the gender chapters in the top Marriage and Family textbooks to see how the authors explained the effects of both biology and socialization on gendered behavior.
"A global look at [existing] research would suggest [that] both biology and socialization play key roles in gendered behavior," said Reynolds, who currently teaches at Williamsburg Academy, an accredited online high school with a liberal arts curriculum. "But looking at the textbooks, that isn't the impression a student would get. All of the textbooks we analyzed gave more emphasis on the socialization side and less emphasis on the biology side."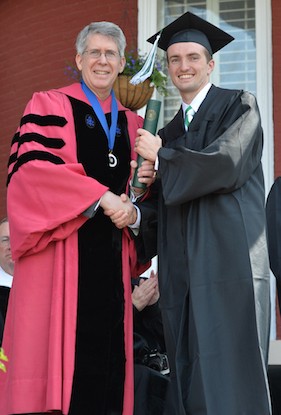 According to Rodriguez, their research was part of a discussion at the conference on "teaching in family science related fields."
"There's a need for this kind of research," said Rodriguez. "Textbooks don't go through a peer-review process to determine if their content is publishable, unlike peer-reviewed scientific journals."
Waddoups, who is currently working toward a master's degree in couples and family counseling at Stetson University, said that she enjoyed the project so much that she began to consider pursuing a doctoral degree in the future.
"We all enjoyed the research and found the implications fascinating, so once we came together to discuss, it never felt like work," said Waddoups. "I discovered by doing this project that research is only boring if you're studying something you don't like. … This [also] helped show me how important it is as a student to understand all the sides of an argument and to know how to read, understand and determine the worth of any research."
Tyree called these group discussions "the most rewarding aspect" of the project. Both Waddoups and Tyree also expressed appreciation for the opportunity they had to participate in the conference.
"When Chantri and I went to the conference, we had in-depth conversations with Ph.D.'s from all kinds of prestigious universities and we held our own," said Tyree. "We knew the theories, articles, and concepts they were referencing, and we were able to comment on the presenters' research and to meaningfully add to the discussions."
Waddoups viewed this experience, along with many other opportunities she had as a student at Southern Virginia, as excellent preparation for graduate school.
"I've always known that the education I received at [Southern Virginia] was top notch, but being a grad student at a new, but similar university, has shown me just how good that education was," she said. "My professors [at Stetson] were incredibly impressed that I was beginning grad school having already participated in a research project and they were very proud of me for presenting it at the NCFR conference."
She attributed much of the quality of her Southern Virginia education to the professors who taught her throughout her undergraduate career.
"Because Dr. MacDonnell encouraged me to look beyond my own limited understanding of history, I found that there is nothing I can't learn," she said. "Seeing [Professor] Crawford's passion for the arts helped me determine to pursue a career I could speak about with the same vigor and excitement she showed in her class every day. Because Dr. Rodriguez spent time exploring career options with me and because he gave me such wonderful learning opportunities, I was able to choose a career path I love."
According to Waddoups, the research project was one of many learning experiences at Southern Virginia that helped her discover her own capabilities.
"My experiences with [Southern Virginia] professors strengthened my faith in myself and gave me confidence in my ability to excel at anything I pursue," Waddoups said. "And this is an invaluable gift."
Reynolds shared similar sentiments about the research project and his Southern Virginia experience.
"Working one-on-one with an incredible professor like Dr. Rodriguez taught me so much," he said. "I was exposed in a completely new way to education, the peer-review process, social science, and research."
Reynolds plans to continue his career in teaching and pursue advanced degrees in the future. He said that participating in the research project was "an unforgettable experience" that prepared him for his career.
"This experience was another example of 'The Genius of Small,'" Reynolds said. "At a larger university, I doubt I would have had the experience to do research in such a small group with one-on-one mentoring from the professor, especially in a field that wasn't my major. … I wasn't able to attend the conference in Baltimore, but Dr. Rodriguez called me that morning at 7 a.m. my time and told me in essence, 'we did it!' I was overjoyed. This was an incredibly rewarding feeling, to see so much hard work finally pay off and make a small but significant contribution to making the world a better place."
Though the conference is over, Rodriguez said that the project is not completed yet. He plans to submit the manuscript detailing their research to an academic journal to be considered for publication.