News Release
President Sybrowsky Announces Departure, Will Serve as Advisor to the Board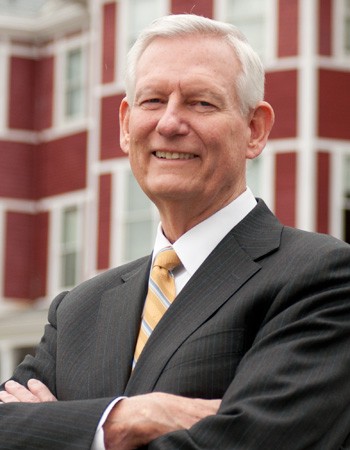 Southern Virginia University President Paul K. Sybrowsky today announced that he will resign his position as president effective Aug. 31, 2014.
During the coming academic year, President Sybrowsky will continue to serve the university as a senior advisor to the board of trustees.
"Southern Virginia University is currently in a position of great strength," President Sybrowsky said. "I have loved my time as president of this amazing institution, but after much personal reflection I feel that it is time to let another take the mantle and continue to move the university forward."
A former General Authority of The Church of Jesus Christ of Latter-day Saints, President Sybrowsky was named the 17th president of Southern Virginia University — a private liberal arts college with a 93-percent LDS student body — on March 2, 2012.
Having fulfilled his two-year commitment to the university, President Sybrowksy informed the board of trustees during a semi-annual meeting Friday that he would not be renewing his contract for the upcoming academic year.
"It was with a heavy heart that I informed the board of my decision to step down, but it is the right decision for me and my family at this time," President Sybrowsky explained. "I will miss the wonderful students, faculty, and staff, with whom I had the pleasure to work these past years and I look forward to helping the university however I can in my new capacity."
During his time at the helm of Southern Virginia, President Sybrowsky focused his efforts on furthering the university's $50 million Capital Campaign, which publicly launched shortly after President Sybrowsky joined the university and has raised more than $28 million to date.
Under President Sybrowsky's leadership, Southern Virginia set a university record for private donations during its 2013 fiscal year and completed several capital campaign-related projects, including the new lighting system for the university's athletic fields, and six new tennis courts. In addition to these recently finished projects, site construction for a new residence hall has begun; and with the majority of funding already in place, building construction is expected to begin this year.
"President Sybrowsky's efforts on behalf of the university, which included fundraising, building relationships with Church leadership, and bringing innovative ideas to our organization, were often done behind the scenes and away from campus," said Southern Virginia University Provost Madison U. Sowell. "The fruits of his labors, many of which have yet to be fully realized, will bless this university for years to come. We are extremely grateful for the time he has given as our president."
"President Sybrowsky has worked selflessly and tirelessly these last two years to open doors in our fundraising, recruiting, and marketing efforts that had previously been closed to us," said Vice President of Enrollment and Marketing Brett Garcia. "I am grateful for his willingness to continue to help us through his new board of trustees assignment."
The board of trustees has organized a committee to conduct a full search for Southern Virginia's next president, according to university bylaws.
"Our goal is to conduct an accelerated, yet thorough, search in order to find the right person to lead this university into the future," said Dane McBride, vice-chair of the university's board of trustees, who was appointed to chair the presidential search committee. "Ideally, we hope to name President Sybrowsky's successor before his departure and prior to the 2014–2015 academic year."
Inquiries about the position of president of Southern Virginia University may be directed to presidentsearch@svu.edu.