Campus Voices
Piano Recital
A few days ago, a friend suggested that I read a famous speech about music delivered by Karl Paulnack at the Boston Conservatory in 2004. In it, he argues that music is a sort of therapy or chiropractic for the soul. "Music has a way of finding the big, invisible moving pieces inside our hearts and souls and helping us figure out the position of things inside us."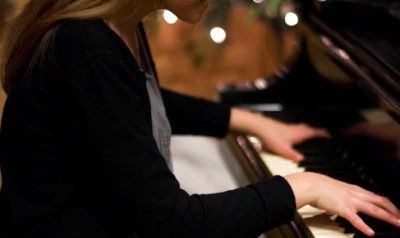 I read this just before attending the piano recital the other night and it kindled a far profounder appreciation for what I was to hear. Lucy Taylor, Eva Sorensen, Megan Reynolds, William Taylor, and Patrick Summers — all of whom I consider good friends — played and their performances were excellent. After all the challenges of a semester, the pieces they had perfected served as the ideal antidote to the stress within myself, the contrasting interplay between dissonance and consonance kneading the emotions of the soul back into harmony.
My favorite piece was one by Brahms. The music was sometimes serene, sometimes anguished, sometimes a serene anguish that seems manifestly contradictory when I put it into words, but which Brahms managed to communicate perfectly at Reynolds' fingertips. As Paulnack puts it: "Music is one of the ways we make sense of our lives, one of the ways in which we express feelings when we have no words, a way for us to understand things with our hearts when we can't with our minds."
We could hardly recover from one piece before another had enthralled us. When Taylor approached the piano, I wondered if whatever he played could surpass the artistic taste of his bowtie, but his domination of the keyboard quickly put the bowtie to shame. He began playing a work by Sibelius calmly, but I was quickly shocked out of my reveries by a sudden shout of dissonance that receded intermittently into calm melodies that continued between crashing cacophonies and free-falling plummets.
Before beginning one of the last performances, Summers explained that it was a composition of his own. It was called "The Wild Huntsman" and consisted of three movements based on Washington Irving's "The Legend of Sleepy Hollow." Patrick did not begin with any pretense of tranquility. His fingers flashed over the keys. I've never encountered a better retelling of that story — with all its unsettling emotion — than Patrick's composition.
I left the recital content and self-aware. The music did its work. I felt as if I'd been relieved of a burden; as if my soul really had been brought back into better harmony. I love the musical performances at the end of the semester and I'm grateful for all the practice and preparation of my friends who performed.