News Release
News Anchor, Former NFL Player to Give Devotional Oct. 24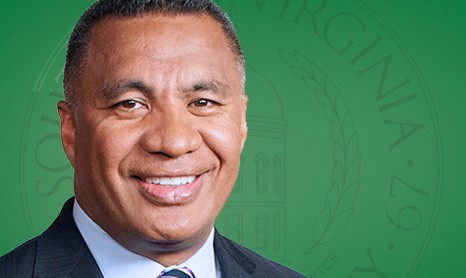 Vai Sikahema, news anchor and sports director at NBC10 and former NFL player, will give a devotional address on Friday, Oct. 24, at 11 a.m. in the Stoddard Center at Southern Virginia University.
Sikahema has worked at NBC10 for 20 years and has covered multiple Olympic Games including the 2014 Winter Games in Sochi, Russia, and the 2012 Summer Games in London, England. In addition to a wide variety of other topics, he has reported extensively on Philadelphia's sports teams.
He also hosts "Wednesday's Child," a weekly feature sponsored by the National Adoption Center and the Dave Thomas Foundation for Adoption that promotes the adoption of area children. He received a commendation from the Congressional Caucus of Adoption in Washington, D.C., for his work on "Wednesday's Child" in 2011.
A native of Nuku'Alofa, Tonga, Sikahema was the first Tongan to play in the National Football League. He was a running back and kickoff returner in the NFL for eight seasons. He is a two-time All-Pro, was named the NFL Alumni's Kick Returner of the Year twice, and holds NFL records in number of punt returns.
He received a bachelor's degree in broadcast journalism from Brigham Young University. He also played football at BYU and is now a member of BYU's Hall of Fame. He has received two Emmy awards for his work in the television industry, been inducted into the Philadelphia Broadcast Pioneer's Hall of Fame, and received the Deseret News President's Award for his weekly column, Vai's View.
A member of The Church of Jesus Christ of Latter-day Saints, he currently serves as a stake president in New Jersey. In addition to church service, he and his wife, Keala Sikahema, actively serve their community and participate in organizations including the Boy Scouts of America and the United Way.
Community members and Southern Virginia faculty, staff and students are invited to hear forum and devotional speakers each Friday morning at 11 a.m. in the Stoddard Center. Recordings of past forum and devotional speeches may be accessed at online.