Spotlight
Nate Pence ('12) Joins Grammy-Winning Vocal Ensemble Chanticleer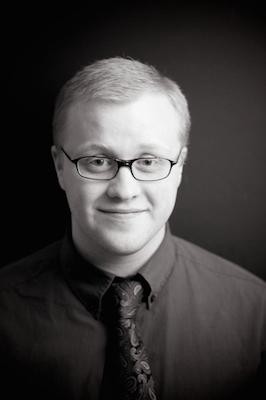 Southern Virginia University Alumnus Nate Pence ('12) became the newest member of the Grammy-award winning male vocal ensemble Chanticleer this month.
As a member of Chanticleer, Pence rehearses regularly with the group in San Francisco, Calif., and will tour both nationally and internationally. Chanticleer will begin a European tour next month.
"I'll be touring all over the world [with Chanticleer]," Pence said. "I'm excited to get to experience all sorts of different cultures and share music with people who I otherwise wouldn't be able to communicate with."
Chanticleer has been recognized with a number of awards including three Grammy awards and the 2008 Musical America Award for Ensemble of the Year. Additionally, Chanticleer was the first vocal ensemble to be inducted into the American Classical Music Hall of Fame.
Pence said that the director of Chanticleer asked him to audition for the group after he saw a recording of Pence singing on YouTube.
"I went and auditioned for them and it was a wonderful opportunity," said Pence. "The audition was a lot of fun. I sang with them and we talked back and forth about logistics. [Eventually] they said, 'You're the one we'd like if you're interested.'"
While he spends the year in performance with the vocal ensemble, Pence plans to continue his graduate education at the University of Florida long distance to complete his master's degree in choral conducting. Prior to attending the University of Florida, Pence majored in music at Southern Virginia — where he performed in numerous musical and theatrical productions and completed a hands-on internship in choral conducting.
"Nate was an outstanding musician at Southern Virginia, recognized early in his education as a promising conductor and vocalist," said Dr. La Rae Carter, music program coordinator at Southern Virginia. "As a member of the Concert Chorale, he was often soloist. As a conductor, he did a superb job as director of the Institute Choir and completed two years of excellent work as student intern conductor of Bella Voce. He demanded much from the [students], both vocally and as musicians, often teaching music theory concepts along the way."
Pence said that the music professors at Southern Virginia provided him with excellent preparation for his graduate study.
"Dr. Carter was a wonderful help," said Pence. "Professor [Mark] Taylor was always very patient with me and Professor [Launa] Whitehead was invaluable. There was one class that I took at UF that was as hard as hers, but there was not a single graduate class that was more difficult than her class. She prepared me and I'm very grateful for that."
In addition to joining Chanticleer, Pence also performed the lead role of Oberon in George State University Harrower Opera's production of the opera "A Midsummer Night's Dream" this summer.
"[Performing in the opera] was a wonderful experience," he said. "I got to work with some fun, passionate musicians and perform a really wonderful and beautiful piece of music. It was a great learning experience for me."
In June, Pence returned to Southern Virginia to teach and conduct at a choral workshop held on the university's campus. Along with his sister, fellow Southern Virginia graduate Taerra Pence ('05), and accomplished vocalist Christine Schadeberg Wydro, he taught participants during a two-day workshop that culminated with the performance of Schubert's "Mass in G" at the Lexington Presbyterian Church.
Pence said that he appreciated returning to Southern Virginia to "recharge" before he left for new experiences in San Francisco.
"[Southern Virginia] is a place that changed my life and it's always wonderful to get to go back and experience the spirit that's there," he said.
Carter said she feels Pence is "well prepared" for the opportunity to sing with Chanticleer.
"We, here at Southern Virginia, are proud that one of ours has been selected to this prestigious group," she said. "It is a once-in-a-lifetime opportunity for any singer. He is already working hard to come up to the group's high standard of preparedness. He has a great challenge ahead of him. It will test him in many ways, not just musically."