News Release
Former Young Women General President Addresses Class of 2014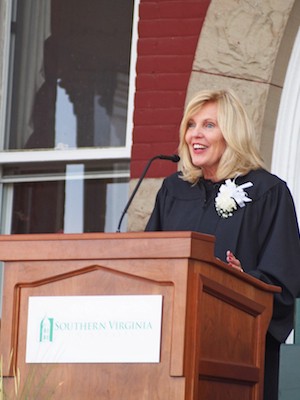 More than 1,000 alumni, students, faculty, staff, graduates and their families, and community members gathered on the lawn in front of historic Main Hall in Buena Vista, Va., for Southern Virginia University's 146th annual Commencement exercises.
Elaine S. Dalton, former Young Women General President of The Church of Jesus Christ of Latter-day Saints, addressed members of the class of 2014, which consisted of 118 graduating seniors.
"I believe that you will change the world," said Dalton. "This university is not just a place but also an idea, an inspiration, the carrying forth of a vision. There is a Spirit here; it is tangible, as you know. You should be very proud that you are about to graduate from Southern Virginia University: an experiment in excellence, in values-based education. Indeed, an institution of higher learning. … You have been tutored in all that is uplifting, moral and ennobling to the human character. I hope that you will pass that on to the world."
In her remarks, Dalton gave the graduates a list of "some of the distinguishing marks of those who complete life's race successfully."
"If you don't remember anything else today, I hope you remember these words 'the race is not to the swift nor the battle to the strong,' but to those who endure to the end," she said. "You have a first-class education from a first-class school. You are prepared. And so, you need not and cannot live an ordinary life. Each of you has an appointment with destiny."
The commencement ceremony featured three student speakers, the salutatorian and valedictorian, Sariah Rodriguez and Ryan Sloan, respectively, and the senior speaker, Gregory Turner.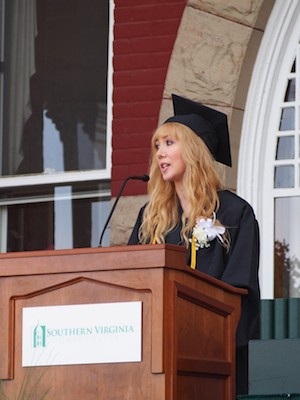 "The education we received at this university was fabulous and one of a kind," said Rodriguez, a graduate from Buena Vista, Va., who majored in family and child development. "Where else would I have spent my sophomore year … comparing all of the drama and romance in my friend group to 'The Iliad' and 'The Odyssey'? And where else would these friends have completely understood what I was talking about? Where else would college professors have sought me out as an academically insecure young freshman to tell me they believed in me and then worked to help me succeed?"
Rodriguez concluded by encouraging her fellow graduates to continue to "keep their mental abilities strong," be "engaged in life," and let their curiosity lead them toward further challenge.
Turner, a graduate from Reidsville, N.C. who majored in politics, began his speech by recognizing Dr. La Rae Carter, professor of music and director of Concert Chorale.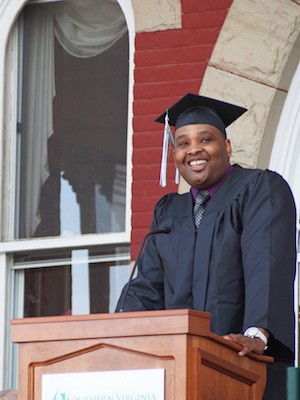 "I am the product of two Baptist ministers who encouraged me to give credit where credit is due," said Turner. "With that said, Dr. La Rae Carter, will you please stand. Dr. Carter, it has been an honor and a pleasure to sing tenor in your choir. You are one in a million and it's been a great ride. … Here at Southern Virginia University, we've had the opportunity to establish friendships that will endure for a lifetime. Last month, when I not only lost a brother, but a friend, the love and support that the Southern Virginia family showed me as a whole was outstanding."
Throughout the rest of his speech, Turner focused on the many opportunities that Southern Virginia gave him and others, and how the graduating class can give back to the university, as "the best days of Southern Virginia are yet to come."
Sloan, who majored in business management and leadership and completed the university's pre-dental track, will attend Texas A&M University's Baylor College of Dentistry in fall 2014.
"After years of hard work it feels as though, regardless of our declared majors and minors, we have actually majored in patience … with minors in longsuffering and diligence," said Sloan. "We've learned to recognize opportunity, which [some have] said 'comes disguised in overalls and looking a lot like hard work.' Though, I'm pretty sure I've seen it cloaked in a greenbook and calling itself a classics of Western literature final. … We have seized opportunity and we find ourselves at the gates of the rest of our lives, degree in hand."
Sloan went on to describe the "wow test" in business and gave examples of "wow moments" that he experienced during his time as a student at Southern Virginia.
As part of the commencement exercises, Andrew Evans, a 2014 graduate who majored in philosophy, was commissioned as a second lieutenant in the United States Army. Colonel William J. Wanovich introduced the commissioning. Then, Evans took the oath of office, received the gold bars from his sisters Alitzah and Abby Evans, and took his first salute with his mother, Wanda Evans, who is a former staff sergeant.
Following the conferral of degrees, the ceremony concluded with the traditional performance of "Shenandoah" by the university's Concert Chorale and Southern Virginia alumni.