Official Statement
Former President Paul K. Sybrowsky Dies at 70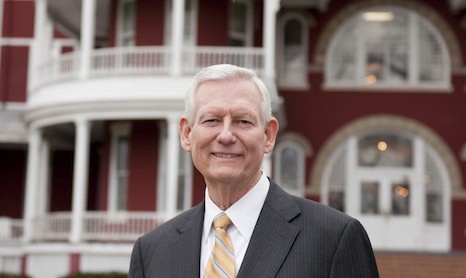 Elder Paul K. Sybrowsky, immediate past president of Southern Virginia University and former general authority of The Church of Jesus Christ of Latter-day Saints, passed away surrounded by family on Wednesday, Sept. 10, 2014, in Salt Lake City, Utah. He had battled a serious illness for many months.
At the time of his death, he was serving Southern Virginia University as a senior advisor to the Board of Trustees.
From June 1, 2012, to Aug. 31, 2014, he served as the seventh president of Southern Virginia since its transition to a private liberal arts institution with a Latter-day Saint environment in 1996. During his two years as president of the university, he oversaw the successful public launch of the university's ongoing capital campaign, "Advancing the Genius of Small," which has raised over $28 million to date.
At Southern Virginia, Elder Sybrowsky often spoke of his passion for educating young people through scholarship and discipleship — two of Southern Virginia's core values.
Prior to becoming president of the university, he served as a member of the Second Quorum of the Seventy of the Church for six years. As a general authority, he was area president from 2005 to 2008 for Australia, Papua New Guinea and the Solomon Islands. He also had assignments in the areas of church history, media services, family history, and boundaries and leadership. In addition to serving as a Seventy, he served as a bishop, stake president, and mission president in Canada.
Born on Aug. 22, 1944, to Paul H. Sybrowsky and Elizabeth Ann Fowler Sybrowsky, Elder Sybrowsky was raised in Salt Lake City, Utah. He attended what is now known as Brigham Young University–Hawaii until leaving to serve a full-time LDS mission in Canada from 1964 to 1966. Following his mission, he earned a bachelor's degree in sociology from Brigham Young University. In 1968, he married Evelyn "Lynne" Frances Prior.
Professionally, he co-founded Dynix, Inc., which went on to become the world leader in providing automated library services. As CEO of Dynix, he was recognized as Utah's Small Businessman of the Year and Utah's Entrepreneur of the Year in the field of technology.
He also provided service to his community and country through serving in the United States Army Reserves and the Utah Air National Guard, as a commissioner of the Northwest Commission on Colleges and Universities, and on a number of boards and leadership councils.
Elder Sybrowsky is survived by his wife, Lynne Sybrowsky, and their nine children and 29 grandchildren.