News Release
Director of Washington D.C. Temple Visitors' Center to Give Devotional Sept. 5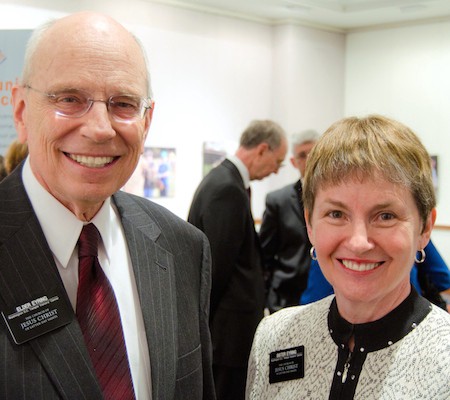 Harden Eyring, director of the Washington D.C. Temple Visitors' Center, and his wife, Loi Anne, will give a devotional address on the theme, "We Seek After These Things," on Friday, Sept. 5, at 11 a.m. in the Stoddard Center at Southern Virginia University.
Prior to becoming director of the Temple Visitors' Center, Eyring worked as assistant commissioner for Administrative Services and Human Resources at the Utah State Board of Regents for nearly 40 years. The Utah State Board of Regents is the governing board of the public colleges and universities in Utah. Professionally, he also practiced law in San Francisco, Calif.
He received bachelor's degrees in both physics and mathematics from the University of Utah, as well as a juris doctorate from Columbia University. He served a mission for The Church of Jesus Christ of Latter-day Saints in Switzerland and Austria. He has also served as a bishop and in other callings for the Church.
Loi Anne Eyring was raised in Salt Lake City. She graduated with a bachelor's degree from the University of Utah and was a scholarship student at the Manhattan School of Music in New York City. She has been playing for the Utah Symphony since the age of 16 and recently participated in her 51st season. She has also won the National Congress Strings Competition and the Piatigorsky Chamber Music Competition, in addition to other prizes and competitions.
The Eyrings have been married for 47 years and have five children, 10 grandchildren and one great-grandchild.
Community members and Southern Virginia faculty, staff and students are invited to hear forum and devotional speakers each Friday morning at 11 a.m. in the Stoddard Center. Recordings of past forum and devotional speeches may be accessed online.