News Release
Director of Communications to Give Forum Oct. 17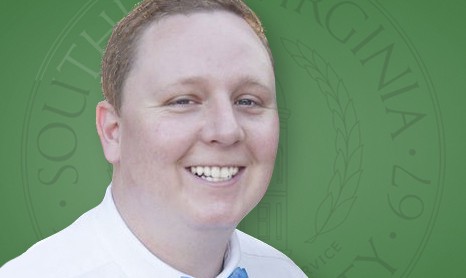 Chris Pendleton, director of communications at Southern Virginia University, will deliver a forum address on Friday, Oct. 17, at 11 a.m. in the Stoddard Center at Southern Virginia.
Prior to working for the university, Pendleton completed an internship at The White House in The Office of Presidential Speechwriting. There, he annotated, edited, checked facts and conducted research for over 100 Presidential speeches. Upon returning to Buena Vista in 2011, Pendleton worked as the university's sports information director before accepting his current position.
Pendleton attended Southern Virginia, where he studied philosophy and politics. In 2008, he graduated as valedictorian and the recipient of the Barrus Scholar award, a distinction that the university's faculty annually bestows to two graduates whose work at Southern Virginia embodies a liberal arts education. As a student, he earned a number of athletic honors as a member of the men's basketball team and became the university's first ESPN Academic All-American.
Pendleton is from Seattle, Wash., and served a full-time mission for The Church of Jesus Christ of Latter-day Saints in Hamburg, Germany.
He is currently pursuing a master's degree in communication from The Johns Hopkins University with an emphasis in digital and non-profit communication. He and his wife, Tiffane Pendleton, live in Buena Vista, Va.
Community members and Southern Virginia faculty, staff and students are invited to hear forum and devotional speakers each Friday morning at 11 a.m. in the Stoddard Center. Recordings of past forum and devotional speeches may be accessed online.