Spotlight
Concert Chorale Performs at 60th Anniversary Roanoke Symphony Concert
The Southern Virginia University Concert Chorale joined with the Roanoke Symphony Orchestra and several choral ensembles for a special Roanoke Symphony 60th Anniversary Season performance last week.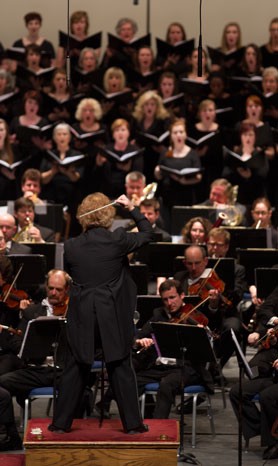 The combined chorus of approximately 200 singers — including 78 Southern Virginia students as well as singers from Liberty University, the University of Virginia, the Oratorio Society of Virginia, and the Roanoke Symphony Chorus — sang Sergei Prokofiev's "Alexander Nevsky Cantata." The cantata is a seven-movement work that tells the story of a medieval Russian leader's victories over invading armies.
"The cantata is a magnificent piece of music orchestrally as well as chorally," said Dr. La Rae Carter, director of Concert Chorale and assistant professor of music at Southern Virginia. "It's such emotional music that everybody at the concert was moved. Backstage, some of us were in tears the emotion was so heavy. I was thrilled with my [students]."
This is the Concert Chorale's third time performing with the Roanoke Symphony Orchestra under the direction of Dr. David Wiley, who also serves as music director and conductor of New York's Long Island Philharmonic, and as artistic director and conductor of Virginia's Blue Ridge Music Festival.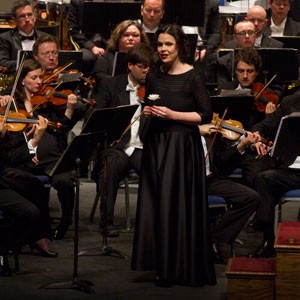 "[The chorus'] powerful and cohesive singing elevated the RSO musicians to dig deeper in the epic battle, and there were some remarkable moments indeed," said Wiley. "Special thanks to our three amazing choral directors, La Rae Carter, Michael Slon, and Chorus Master John Hugo."
Carter said that learning to sing in Russian was initially a challenge, but that her students "rose to the occasion."
"The choruses sang in a full, clean and powerful sound combining with the orchestra to bring the cantata to a thrilling ending, prompting an immediate standing ovation from the audience," said Timothy Gaylard, professor of music at Washington and Lee University, in a review of the concert for The Roanoke Times.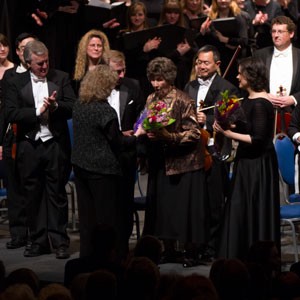 Carter said she felt it was a "privilege to sing these great works with that magnificent orchestra" and that all her students had "a wonderful experience."
"I loved working with the RSO," said Nicolas Jensen, a Southern Virginia politics major and member of the Concert Chorale from Camano Island, Wash. "It is such an exhilarating experience to sing at a more professional level and with such talented individuals. Singing with a full orchestra and choir is a far more intense experience than any other performing experience I have had."
Southern Virginia's Concert Chorale will next perform at Washington and Lee University's ChoralFest 2014 Concert on Friday, March 28, at 8 p.m. in Jackson Hall at the Virginia Military Institute. At the ChoralFest, members of Concert Chorale and other choirs will rehearse and perform under the direction of Eric Barnum, an award-winning American composer.