News Release
Business Consultant to Give Forum Address Oct. 31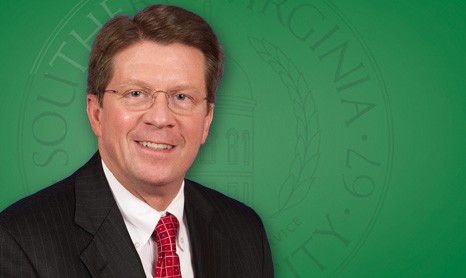 Mark Gottfredson, a director of global business consulting firm Bain & Company, will give a forum address, titled "Leadership: More than a Great Speech," on Friday, Oct. 31, at 11 a.m. in the Stoddard Center at Southern Virginia University.
Gottfredson is director of Bain & Company's Dallas office, which he founded in 1990. He has held a number of other positions in the company, including service as global head of Bain's Performance Improvement Practice and as a member of the board of directors. He has also worked as a consultant to executives in a variety of industries.
He has written for multiple business publications, including The Harvard Business Review, Wall Street Journal and the World Business Review, and is coauthor of "The Breakthrough Imperative." He has also appeared on CNBC and CNN. In 2005, he was named one of the world's top 25 consultants in Consulting Magazine.
After serving a mission for The Church of Jesus Christ of Latter-day Saints in Japan, he graduated magna cum laude from Brigham Young University with a bachelor's degree in Japanese. He proceeded to pursue a master's degree in business administration from Harvard Business School and graduated as a Baker Scholar.
Gottfredson currently serves as a stake president in Texas. Previously, he has held several other leadership positions in the Church, including service as a bishop. He and his wife, Christine Gottfredson, served a three-year mission together, presiding over the Japan Fukuoka Mission of the Church.
The Gottfredsons live in Texas and have five children and eight grandchildren.
Community members and Southern Virginia faculty, staff and students are invited to hear forum and devotional speakers each Friday morning at 11 a.m. in the Stoddard Center. Recordings of past forum and devotional speeches may be accessed online.