Spotlight
Alumnus Receives Prestigious Fulbright Grant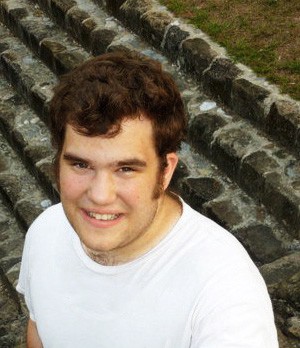 Eric Griffin ('12) recently received a Fulbright Grant to teach English as a second language to university students in Argentina beginning in March 2014.
Griffin, who majored in both Spanish and history at Southern Virginia, said that this opportunity "fits perfectly" with his "long-term goal" to one day earn a doctorate and become a "professor of Latin American history."
"It's hands on experience teaching in a college classroom setting with college-age students," said Griffin. "It's also one of the more prestigious scholarships in the United States."
The Fulbright Program, established in 1946, is directed by the U.S. Department of State's Bureau of Educational and Cultural Affairs. According to the bureau's website, the program "is the flagship international educational exchange program sponsored by the U.S. government and is designed to increase mutual understanding between the people of the United States and the people of other countries . . . and contribute to finding solutions to shared international concerns."
Of the 325,000 students, teachers and scholars that have participated in the Fulbright Program since its inception, 46 have been awarded the Nobel Prize, 80 have received Pulitzer Prizes, 28 are fellows of the MacArthur Foundation, and 29 have served as heads of state or government.
"This is by far one of the best grants a Southern Virginia student could get and he's the first one we've had," said Dr. Virginia Mosser, professor of history at Southern Virginia, who received a Fulbright Grant to study in Austria while writing her dissertation. "Eric is funny, enthusiastic and full of life. What is special about him is that he's so interested in everything that he pursues."
In one of Dr. Francis MacDonnell's classes at Southern Virginia, Griffin wrote a paper that received second place in a regional conference of Phi Alpha Theta, a national history honor society. He also participated in the university's comedy troupe, Shenanigans, in addition to his academic pursuits.
Griffin first learned about the Fulbright Program from Mosser, and decided to apply in order to gain teaching experience and learn more about Latin America. Mosser said that he then completed "a daunting application" highlighting his "high academic achievement and demonstrating his leadership potential."
"I originally applied for Guatemala because I had Travel Study experience there and I was familiar with the whole country so that seemed like a reasonable fit," said Griffin. "But then they selected me for Argentina and I'm thrilled."
Mosser said that Griffin was well-prepared for teaching English through the Fulbright Program because he had previously served as an interpreter and taught English.
"He is from Port Huron, Michigan, which is a 'sister city' with Chiquimula, Guatemala," said Mosser. "Three years ago, as part of a cultural exchange, several professors visited the community college in Port Huron. He served as an interpreter and accompanied one professor to a charter school and spoke with him at length about the educational system in Guatemala. He has personally led classes of six to ten students each in 45 minute English classes. The students with whom he worked were 12 to 16 years of age. He also facilitated, on a weekly basis, a class of 30 adult English learners."
Griffin said that many courses at Southern Virginia, which provided him with the opportunity to "lead classroom discussions" and "prepare presentations in Spanish," gave him excellent preparation for the Fulbright Program. Additionally, he felt that "the letters of recommendation" his Spanish professors wrote "were essential."
"I still don't even believe it," he said. "I'm just diving into it. I'm preparing, getting all of my medical work done and my visa taken care of."
When he finishes teaching in Argentina, Griffin plans to attend graduate school and study Latin American history.