Spotlight
Alumna Follows Passion at Highly-Ranked Physical Therapy Program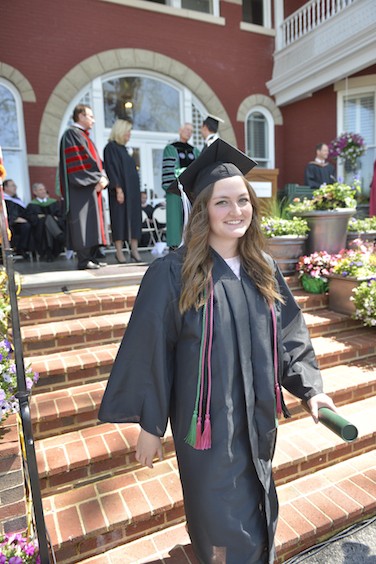 Abby Baxter ('14), a recent graduate of Southern Virginia University, is currently pursuing a doctorate at the highly-ranked physical therapy program of the University of Utah College of Health.
Baxter majored in biology, fulfilling the requirements for the physical therapy pre-professional advisement track.
"Encompassed in physical therapy is a sense of fulfillment, joy, and triumph," Baxter said. "I want to be a guide and the voice of encouragement as I help patients back on their feet and teach them how to help themselves. There is dignity in helping others claim their own once again."
The doctor of physical therapy program at the University of Utah is ranked 14th in the nation by the U.S. News and World Report, placing it in the top 6 percent of physical therapy programs.
"Deciding on a program was a difficult task," Baxter said. "But I knew that I wanted to be somewhere where innovation and evidence-based practice was a priority. The University of Utah seemed a great fit with its phenomenal faculty and the opportunity to start with hands-on experiences in the first year."
Baxter's fascination with health and healing began early in life.
"When I was 13, my oldest sister was in a serious snowboarding accident in which they thought they would have to amputate her left arm," she said. "Prayers called down a small miracle and my sister did not lose her arm that night. However, her recovery was rigorous. I distinctly remember the first time she was again able to touch her face, tears streaming down her cheeks. Soon she was able to pull back her hair and tie her own shoes. I did not know then the significant impact this experience would have on my career journey."
While attending Southern Virginia, Baxter realized that she wanted to pursue a career in physical therapy. She described the countless opportunities for hands-on experience that she enjoyed as a Southern Virginia student, especially through participation with the Remote Area Medical program.
"With thousands in need and limited volunteers, there were plenty of opportunities to jump in and learn firsthand from seasoned health professionals," she said.
As a student, she became a certified EMT and volunteered with the local rescue squad. She also took advantage of Southern Virginia's Travel Study program to participate in a medical mission trip to Guatemala.
One experience that particularly motivated Baxter to pursue a career in physical therapy was the opportunity to volunteer at the Golden LivingCenter nursing home in Buena Vista, Va.
"Rehab was the main human interaction many of the patients had all week," she said. "Progress was not always measurable daily, but I found myself captivated as therapists and patients remained encouraged and motivated. Their earnest efforts were rewarded when patients could once again dress themselves, or toss aside a walker after being told they would never again walk unassisted."
In addition to her many experiences learning about her field of interest through serving others, she also said that her professors at Southern Virginia were exceptional.
"I believe I was most impacted by the individual attention I received from my professors," she said. "There was not a professor at Southern Virginia that did not impact my life. … It was in Dr. Schramm's office that I realized I wanted to pursue a career in physical therapy."
Dr. Beth Schramm, professor of biology at Southern Virginia, said that Baxter is a good fit for the physical therapy program.
"She's such a well rounded person," said Schramm. "Her ability to plan ahead, organize and focus is a big part of how she got into the program. With her it was so easy [to apply for graduate school] not just because of the strengths, but because it was such a good match."
In addition to beginning classes at the University of Utah College of Health, Baxter has also continued obtaining hands-on experience through an internship at a pediatric hospital and burn center.
"I have started classes and I have loved them," Baxter said. "It is definitely a change being in a classroom with 47 other people, but the faculty here are absolutely up to par with those at Southern Virginia. They are dedicated to our success and their passion for their subjects enhances the learning experience."
She felt that her opportunities to volunteer, to participate in athletics and student government, to build close relationships with professors, and to receive a liberal arts education at Southern Virginia prepared her for graduate school and for her career in physical therapy.
"I know such an influential education could not have been replicated elsewhere," Baxter said. "I am driven to become a physical therapist by the tears of joy I remember in my sister and see in the patients I have witnessed regain their independence."