Spotlight
2014 Distinguished Service Award Recipients Announced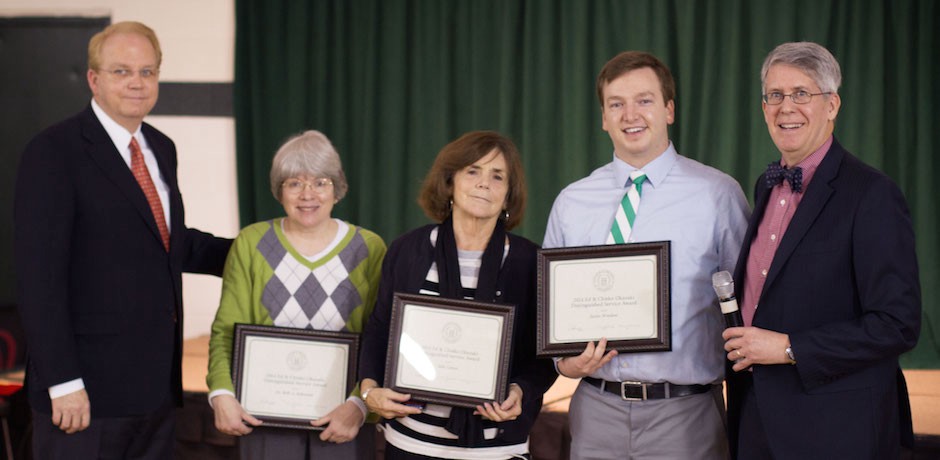 Southern Virginia University Provost Madison U. Sowell today announced the recipients of the 2014 Ed and Chieko Okazaki Distinguished Service Award.
The Okazaki award for distinguished service, now in its eighth year, is given annually by surprise announcement to representatives of Southern Virginia's student body, staff and faculty.
This year's recipients include Justin Winslow, a senior from Gahanna, Ohio; Julie Larsen, technical services specialist of library services; and Beth Schramm, professor of biology. Nominations for award recipients were opened up to all Southern Virginia students, faculty and staff.
The Okazaki award's namesakes are Ed, a Japanese–American who served in a highly decorated unit of the U.S. Army during World War II, and his wife, Chieko, who was an author, educator and former first counselor in the Relief Society general presidency of the Church.
The award honors exemplary leadership and service. For student recipients, the honor appears on their permanent transcripts and ranks with valedictorian as the highest distinction afforded to a Southern Virginia University student.
Justin Winslow
Winslow is a theatre major at Southern Virginia. He previously served as vice president of academics and service on the Student Executive Council. He has also been involved in numerous theatrical productions and the improve comedy group Shenanigans during his time at Southern Virginia.
"'He has poured his heart and soul into Southern Virginia and has been willing to do the jobs others, frankly, would not. He loves [the university] and the students and tries to serve them every day,'" said Provost Sowell, quoting those who nominated Winslow for the award. "'The gospel and the act of discipleship are present in his every act. He serves without thinking of himself or his busy schedule, but with the sole thought of helping those around him.'"
Julie Larsen
Larsen has worked at Southern Virginia since 1997. During her time at Southern Virginia, she has worked in the library, the mail center, development, admissions and the bookstore. She has also worked in local public schools and volunteered in the local community. She and her husband live in Lexington, Va. and have raised seven children, two of whom are Southern Virginia alumni.
"[Julie Larsen] has offered outstanding service to Southern Virginia University for almost 20 years," said Provost Sowell. "She served the Lexington public school system for 20 years as a 'room mother,' substitute teacher and librarian. … She served as a Cub Scout Den Mother, Girl Scout Pack leader, High School Athletic Booster and PTA leader. She also volunteered at the old Henry Street theatre in Lexington, as an officer for the Daughters of the American Revolution, in local political organizations, and in many efforts to support veterans and members of the military."
Dr. Beth Schramm
Schramm began serving as a faculty member at Southern Virginia in 1987, when it was known as Southern Seminary Junior College. She was an active participant in the transition from Southern Seminary to Southern Virginia University, helping the school become the four-year liberal arts college that it is today. She regularly runs food drives on the university's campus and has also been an active volunteer for the Meals on Wheels Association.
"[Dr. Schramm] is one of the longest-serving members of our current faculty," said Provost Sowell. "Her food drives every semester coupled with her individual attention to students are only two reasons for her nomination. … [Those who nominated her for the award said] 'her passion for teaching and her dedicated service to students is phenomenal. She has served efficiently in leadership roles as division chair, program coordinator and in academic committees.' She has missed only one day of school during her tenure."
"'She is the personification of the pure love of Christ — a rare exemplar of our core values and a true Leader Servant,'" Provost Sowell said, quoting those who nominated Schramm for the award. "'Her seemingly small and simple acts of kindness have benefited almost everyone on campus and in the community.'"