Spotlight
Two Graduates, Friends Set for European Graduate Programs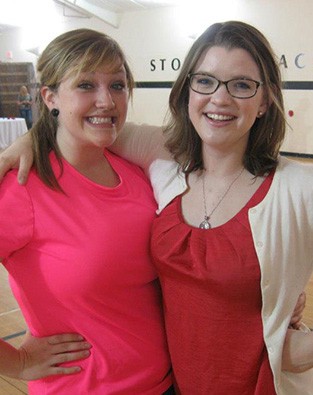 Allison Walker and Esther Harsh, two close friends and members of the Southern Virginia University 2013 graduating class will both pursue graduate degrees at prestigious European universities this fall.
Walker, who majored in art and liberal arts at Southern Virginia, will pursue a master's degree in theology, imagination and the arts at the divinity school of the University of St. Andrews — which, founded in 1413, is the oldest university in Scotland and the third-oldest university in the English-speaking world. Harsh, who majored in liberal arts and theatre, will pursue a master's degree in reading in practice, also known as bibliotherapy, from the University of Liverpool in England.
"It had been my great dream to study Victorian literature in England for over four years," said Harsh. "When Allie [Walker] found a program in the U.K. last fall that matched her vision, I was thrilled for her! Allie and I have always been close, but this last year was pretty spectacular as we both applied to graduate schools and both got accepted to our top pick. It was a very special experience as we talked about it every day — sometimes multiple times. I look forward to having a friend in the U.K. as we both take our education to new adventures."
According to St. Andrews' website, the university's Institute for Theology, Imagination and the Arts, where Walker will pursue a master's degree, "aims to advance and enrich an active conversation between Christian theology and the arts — bringing rigorous theological thinking to the arts, and bringing the resources of the arts to the enterprise of theology."
"At St. Andrews I will be studying the furthering of the role of artwork in religions today," said Walker. "Art used to be so utilized as a tool, but today we're very visually illiterate. The program has different artists and ministers and people from all backgrounds that are interested in figuring out how art can make a resurgence in religions."
Walker said that as soon as she heard about St. Andrews' program, she felt strongly that she needed to be there, so when she received her acceptance letter to St. Andrews, "it made sense." She said the education she received at Southern Virginia helped her to develop as an individual and prepare for the next step in her life.
"I absolutely believe that Southern Virginia prepared me for this in a way that no other school could," said Walker. "This school gave me what I needed personally in my mentorship from so many professors here."
Last month, Walker, along with nine other seniors, displayed artwork in the university's annual Senior Art Show. Professor Doug Himes, who Walker credited as a major influence of her own artwork, mentored the students during the process of creating and displaying their pieces.
"I really like the nontraditional but highly religious aspect of the artwork of Wulf Barsch and Doug Himes," Walker said. "Rather than illustrating literal scenes, they present symbols that cause you to think and explore deeper into the different religious themes."
Walker not only expressed appreciation for this style of abstract religious artwork, but also utilized it when making her pieces for the Senior Art Show. She created eight drypoint prints that each portrayed significant events and symbols from scripture and from her own life.
"I make order and sense by drawing out images," she said. "When I'm reading literature or my scriptures, often I will also draw in my journal; I'll draw pictures of what I'm reading through uses of symbols. As I created these drawings, I could understand concepts better… In my artwork I try to signify something sacred but not to spell it out to the point of being extravagant."
While Walker studies art and theology in Scotland, Harsh will study bibliotherapy to help others "see a greater potential and confidence in themselves through reading and applying the principles and lessons which the characters go through within literature." The program Harsh will attend in Liverpool is the first in the United Kingdom to explore literary characters and emotional resonance as a means to combat human troubles.
During her final year at Southern Virginia, Harsh completed two senior projects. She wrote a paper about the power of identity through literature for her liberal arts major and, for her theatre major, she performed a senior acting recital about the moments of life that matter most.
"My experience in missionary work and in service instilled in me a desire to help others realize their own worth and help them to lead out in becoming their potential," Harsh said. "Although I had researched many different English and theatre graduate programs, it wasn't until December that I stumbled upon the bibliotherapy program at Liverpool. Not only was it tailored to helping individuals reach their potentials, but they used the power of good literature. I was so amazed that there would be a program designed directly in the path I had taken for my education at Southern Virginia."
Like Walker, Harsh felt that what she learned from her professors at Southern Virginia has helped her to develop as an individual and prepare for graduate school. She said that her professors helped her to expand her capabilities, share her ideas and become "more confident."
Harsh first heard about Southern Virginia while serving in the Virginia Richmond Mission of The Church of Jesus Christ of Latter-day Saints. Following her mission, Harsh visited Southern Virginia's campus and felt good about attending the university. In 2010, she transferred to Southern Virginia from George Wythe University.
"[Southern Virginia] met my expectations and surpassed them," said Harsh. "I never thought that I would be able to do as much as I've been able to do here. [My professors] have bent over backwards, in so many situations, to help me recognize opportunities to learn and then to apply my education through serving. I'm really excited to take the outlook of education that I've received and continue that in England."
Harsh expressed gratitude for the numerous opportunities that she had to participate in a meaningful way at Southern Virginia, including serving as vice president of honor on the student executive council, serving on the student honor council, and studying theatre, literature and leadership.
"It's such a miracle to me that I've had this opportunity," said Harsh. "But what's so remarkable is that everyone at Southern Virginia can have this opportunity. I truly believe that everyone has a personal mission and a story and if they apply their education as a leader-servant and work with their professors while utilizing the genius of small, they'll find it."