Spotlight
Professor Benedict's Latest Book Details the Intricacies of College Football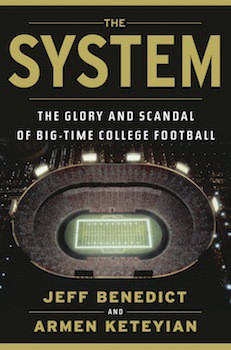 Distinguished Professor Jeff Benedict's new book, "The System: The Glory and Scandal of Big-Time College Football," was released this week.
A collaborative effort with co-author Armen Keteyian, "The System" is the result of nearly two years' worth of work investigating the billion-dollar college football industry.
With unparalleled access to some of the biggest college football organizations in the country, Benedict and Keteyian conducted more than 500 interviews with individuals including players, coaches, recruiters, janitors and fans. Benedict spent a weekend with billionaire and philanthropist T. Boone Pickens, and spent months following a Brigham Young University athlete as he contemplated the decision to join the National Football League.
During his senior year, Southern Virginia University alumnus JJ Feinauer ('13) worked as Benedict's research assistant. Among other tasks, he was responsible for compiling data on football injuries, and several paragraphs of his own narrative on the data was grafted into a chapter of "The System." Benedict said that Feinauer was "a star on this project."
Because of the technicalities of undertaking such a large project with the intention of a thorough and timely book, Benedict split the four college franchises they investigated with Keteyian. Benedict went to Washington State University and BYU, as well as a high school in Compton to document the recruitment process.
According to Benedict, the timing of the release of "The System" is pure luck. "The System" coincides with growing public scrutiny over the relationship between higher education and football programs, and reveals shocking data on arrests and misconduct among athletes. "The System" also explores the complex economics of the industry, where coaches are often the highest paid public employees in the state, while athletes are increasingly likely to sustain long-term brain trauma.
Benedict said that there were also plenty of upsides to tracking college football for 18 months. Benedict and Keteyian approached the project as football fans and thoroughly enjoyed the opportunity.
"It's been an unforgettable ride," Benedict wrote on his blog. "One thing is clear. I will never look at college football the same. Now I see the game in 3D."