News Release
Southern Virginia Welcomes Alumni for Annual Homecoming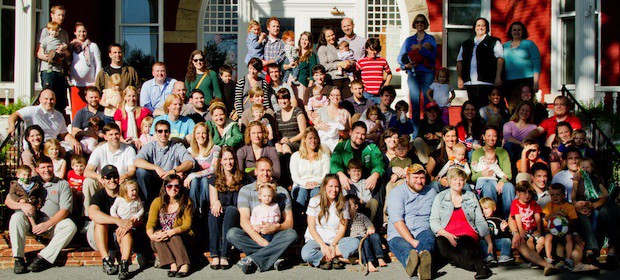 Southern Virginia University is welcoming alumni back to campus for Homecoming with a scheduled week of carnivals, games, concerts, athletic events and a number of other activities.
The festivities will begin with an indoor showing of "A League of Their Own" — a movie about the first women's baseball league in the 1940s — on Southern Virginia's inflatable movie screen. Associate Dean of Students Joseph Bouchelle said that "the movie, in many ways, inspired the theme of the week."
"With the dedication of the new softball field, we wanted to feature a movie that would link the two events," Bouchelle said. "Then, we realized there was a state fair element that we decided to tap into."
He said that the softball field dedication on Saturday night will include games — such as a home run derby — and that Subway will be serving food at The Fields during the event.
"It's going to be great," Bouchelle. "I would even go so far as to say it's the big event of Homecoming."
Homecoming this year will also feature a forum address by Orson Scott Card, popular author and distinguished professor of English at Southern Virginia University. He will be delivering an address titled "Literature, Logic, and the Scientific Method." Later that day, he will host a book signing at the Von Canon Library.
In the evening, Southern Virginia's music program will hold a special Homecoming concert, "Uniamo en Amore," which will feature several of the university's musical ensembles. Afterward, all are invited to attend a bonfire at The Fields where alumna Melissa Branin-Wheeler ('06) will perform.
On Saturday morning, the Class of 2003 will take their ten-year group photo on the front steps of Main Hall. The group photo will be immediately followed by a Homecoming barbecue and activities including bounce houses, games and face painting sponsored by the Alumni Association. A trebuchet for pumpkin chunkin' will also be available.
Throughout the day on Saturday, there will be four scheduled athletic events: two soccer games at The Fields, a volleyball game in the Knight Arena and a football game at Parry McCluer High School.
Additionally, Dr. Francis MacDonnell, professor of history at Southern Virginia, will host a Quiz Bowl in the Ballroom at 1 p.m. For those who want to attend all of the events, the university will provide a continuous bus route between the different locations on campus.
To conclude the week's festivities, the Student Association will host the annual Homecoming Dance in the Stoddard Center.
"Homecoming is such a great time to both relish our current accomplishments and recognize those pioneers who went before and upon whose shoulders we stand," Bouchelle said. "I love the excitement that comes from blending past, present and even future members of the Southern Virginia family. It is truly going to be an incredible week."