News Release
Southern Virginia University Christmas Events 2013
The winter holidays are fast approaching, and Southern Virginia University plans on closing out the year with special holiday traditions and festivities.
As always, we invite friends and community members along with Southern Virginia students, faculty and staff as we celebrate the season with the following holiday events.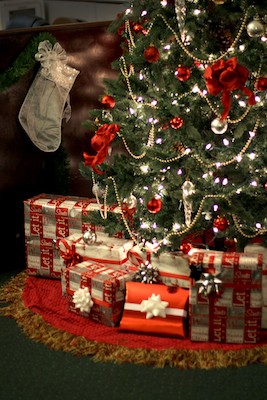 Community Christmas Open House
Following the annual Buena Vista Christmas Parade, Southern Virginia University will open its doors for everyone to come and enjoy plenty of treats and hot chocolate, and a visit from Santa Claus.
Thursday, Dec. 5, following the Buena Vista Christmas parade, Ballroom
Christmas Ball
The Virginia Military Institute Commanders Jazz Ensemble will play at a Christmas dance for students, faculty and staff. Dress up in your best formal or semi-formal attire and join others at the university for a festive night of music and dancing.
Saturday, Dec. 7, 9:00 p.m., Performing Arts Center
Christmas Concert
This year, the Southern Virginia choirs will combine with the orchestra to perform a full concert of holiday music. Together, the orchestra and choirs will perform several numbers including "Hark! The Herald Angels Sing," and "Away In A Manger," both arranged by Mack Wilberg, conductor of the Mormon Tabernacle Choir. They will also perform a new piece with brass and percussion called "Gloria Fanfare."
The Orchestra will then play selections form the Nutcracker, as well as "Greensleeves," and "Winter Wonderland," followed by the Flute Choir's performance of "Sleigh Ride."
The women's choir, Bella Voce, will perform a lighter, harmonious set of arrangements, including "White Christmas," "Mistletoe and Holly," and "Come Adore the Infant Holy."
The Concert Chorale will close out the evening with an arrangement of "Deck the Halls," followed by a spiritual piece, "Glory, Glory, Glory to the Newborn King," and then "Magnum Mysterium" a contemporary Latin piece based on traditional medieval music. They will also perform a modern take on "Noel," with choreography, and "Beautiful Savior."
Many soloists will be featured throughout the concert.
Thursday, Dec. 12, 7:30 pm, Performing Arts Center