News Release
Southern Virginia Theatre Presents 'Babes in Arms' May 31, June 1, 6-8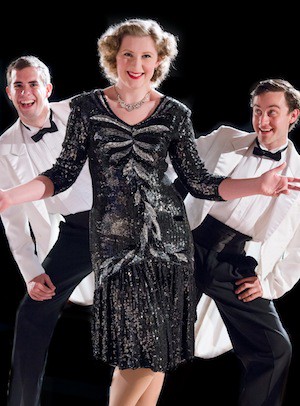 Southern Virginia University Theatre presents the 1937 Rodgers and Hart musical "Babes in Arms" on Friday and Saturday, May 31 and June 1, and the following weekend, June 6–8, at 7:30 p.m. in the Performing Arts Center.
The plot of "Babes in Arms" follows a group of teenagers whose theatrical parents go on tour in the summer. While their parents are away, the teenagers decide to produce their own show in a barn.
"My favorite thing about the musical is the score," said Professor Robert Stoddard, the musical's director. "I also like that it is iconic — meaning that so many other musicals trace their roots to this story about kids putting on a show in a barn."
The musical's score includes the jazz standard "My Funny Valentine," which has been recorded by numerous artists including Frank Sinatra and Miles Davis, and was recently performed by Amber Holcomb in the 12th season of "American Idol," receiving a standing ovation from all of the judges. Other popular songs from the musical include "Where or When," "Johnny One Note," and "The Lady is a Tramp." In 1939, a film adaptation of "Babes in Arms" was released starring Judy Garland and Mickey Rooney.
Sarah Meyers, a 2013 graduate of Southern Virginia, is the show's choreographer, creating dance selections including tap dance numbers and a comic ballet.
"There's a lot of dancing in this show, a lot more than any show that I've been in, and that automatically boosts the energy of everyone in the cast," said Jessica West, a member of the 2013 graduating class who will play the lead female role of Billie Smith. "I love this musical because it's so fun and lighthearted. I love the style — the vaudevillian style of acting, singing and dancing. It's a style that fills me with energy and joy, and I just love sharing that energy with the audience.
Stoddard said that he felt audiences would appreciate the family friendly nature of "Babes in Arms" as well as the humor in the show.
"We've had a lot of fun learning how to dance and act in this style," said Stoddard. "I like to do musicals from different periods so the students have the chance to see what each style is like."
Tickets for "Babes in Arms" are $8 for the general public and $6 for senior citizens and Southern Virginia students, faculty and staff. Tickets can be purchased in advance by calling 540–261–8405, or at the door prior to each performance.