News Release
Southern Virginia Set to Compete with Capital Athletic Conference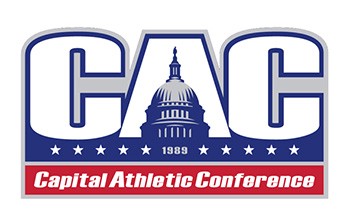 Capital Athletic Conference Commissioner Tom Byrnes officially welcomed Southern Virginia University into the CAC last week in preparation for the conference's 24th year of competition.
"This is an important day in the history of Southern Virginia [University] Athletics," said Southern Virginia Athletic Director Scott Y. Doxey. "We're eager to enter a new chapter of athletics as an official, full-time member of the CAC."
Formed in 1989, the Capital Athletic Conference is a coalition of four-year, co-educational institutions. According to the CAC website, the conference "promotes intercollegiate athletic competition among schools located in close geographic proximity that have similar educational and athletic philosophies." The CAC sponsors championships in 21 varsity sports.
"Because the Capital Athletic Conference sponsors regional tournaments, participating in this coalition will decrease travel time and allow our scholar-athletes to have a greater focus on academics," said Southern Virginia Provost Madison U. Sowell. "We feel that the Capital Athletic Conference is an excellent fit for our athletic and academic goals at Southern Virginia."
In addition to Southern Virginia, the Capital Athletic Conference also welcomed Christopher Newport University and Penn State Harrisburg to its seven other full-member institutions — Frostburg State University, Marymount University, the University of Mary Washington, Salisbury University, St. Mary's College of Maryland, Wesley College and York College of Pennsylvania — increasing conference membership to an all-time high of ten schools for the 2013–14 academic year.
Thirteen of Southern Virginia's 14 varsity sports — men's and women's cross country, men's and women's soccer, women's volleyball, men's and women's basketball, men's and women's tennis, men's and women's lacrosse, baseball and softball — will play full Capital Athletic Conference schedules during the 2013–14 academic year. The Knights' football team will play an independent schedule in fall 2013 before joining the New Jersey Athletic Conference effective July 2014.
As an NCAA Division III provisional member, Southern Virginia will become eligible for Capital Athletic Conference postseason competition in 2014–15 during the university's third year of DIII provisional membership.
Last fall, the CAC invited the Southern Virginia men's and women's cross country teams to compete in its 2012 Capital Athletic Conference Cross Country Championship although the Knights were not yet official conference members.
At the championship meet, four different Southern Virginia runners — Patrick Gonzalez (Riverside, Calif.), Tori Faulkner (Mesa, Ariz.), Leah Huber (Castle Rock, Colo.) and Jacey Moore (Mesa, Ariz.) — earned All-CAC honors. Last week, nine different members of the Southern Virginia cross country team earned 2012–13 CAC All-Academic Team honors as Southern Virginia had the highest percentage of eligible scholar-athletes (9-of-17, 52.9 percent) named to the CAC All-Academic Team among conference members.
"We are excited for the opportunity to compete for postseason play — both in conference and NCAA national tournaments," said Doxey. "I also feel that the CAC's mission to operate under the highest ethical standards and maintain a program consistent with the overall educational philosophy of its member schools makes it the right conference for us at Southern Virginia."