Spotlight
Southern Virginia Professors Honored with Named Professorships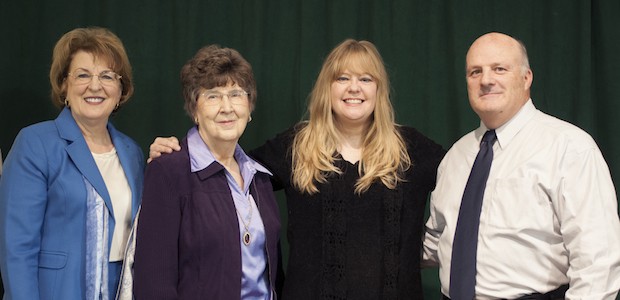 Southern Virginia University Provost Madison U. Sowell announced four new professorships for Southern Virginia faculty this semester.
Dr. Randall Cluff received the Kay and Michael Elton Professorship of Literature. Dr. Barbara van Kuiken was awarded the Kay and Michael Elton Professorship of Chemistry. The Catherine and Doyle Tucker Professorship of Choral Music was awarded to Dr. La Rae Carter, and Launa Whitehead received the Catherine and Doyle Tucker Professorship of Music History.
Provost Sowell said that the professorships were funded through the university's ongoing capital campaign.
"We are in the middle of capital campaign with a three-pronged approach," he said. "One is to raise scholarships, one is to raise professorships and one relates to our facilities and operations."
As donors contribute funds to the school, they can dictate how the money should be spent. In the case of the Eltons and the Doyles, they chose to honor several professors with named professorships. A named professorship honors a professor with increased funding and focus and supplies an additional stipend to a professor's regular salary. In this case, it is $5,000 per year over the next five years.
Cluff said that the award was a wonderful surprise, but he has not had much time for it to sink in due to the demands of a particularly busy semester.
"I am thrilled and deeply honored. There are times that I'll be driving and I'll pause and think, 'The Kay and Michael Elton Professor of Literature, my mother would have loved that.' Growing up, I always saw her reading, and she's the one who instilled in me my love for literature. I think this recognition would have made her very proud."
The award also provided Cluff with a sense of recognition for his years of service at Southern Virginia. Cluff joined the faculty in 1997. A scholar of 19th century American literature, he has published numerous articles on the work of Herman Melville and earlier this year contributed to a seminar on Homer's "Iliad." Cluff said he felt that the professorship brings recognition to the importance of studying literature.
"Provost Sowell said that the donors were involved in determining what disciplines they wanted to recognize with the professorships," Cluff said. "At that point, I thought, it wouldn't likely be me; I thought they might go with something like science, music, theatre or fine arts."
Ironically, Carter felt the same way when she heard about the professorships.
"I was very, very surprised," she said. "I guess in my mind I thought it would go to more academic disciplines like English — which one of them did — but I was thrilled that the arts were recognized as well as being firm academic disciplines."
Carter said that many Southern Virginia students "are involved in some way in the arts, the ensembles and theatre" and felt that the award emphasized the vitality of the arts to Southern Virginia's liberal arts environment.
"I serve as the music artistic director for the musical theatre productions as well, so we work together across lines that way," she said. "Being a small university it is necessary as well as very pleasing to work together that way."
Carter said she was overwhelmed with gratitude by the professorship.
"There are so many ways at a small university like this that we can donate back both with our time and with our means to enhance," she said. "Things like extra music we might want to try or need, or transportation. This will help with that."
Carter began teaching music at Southern Virginia in 2004, and specializes in choral conducting and vocal coaching. She brought more than 20 years of experience with her when she joined the faculty, and prior to that she raised a family of nine children.
Launa Whitehead had a similar career trajectory. After raising her family, she decided to go back to school to pursue her passion in music. Living in Southwest Utah, she was encouraged to enroll in a master's program at the University of Nevada Las Vegas, nearly an hour and a half drive away, but first she had to finish her undergraduate degree at Southern Utah University, forty five miles north.
"I was in it for the journey more than the destination," Whitehead said. "I drove back and forth between St. George and Las Vegas once a week. I took lessons from my mentor, and he was the one who said to me, 'I want you in my master's program.' But I didn't have a bachelor's degree, so he told me to go get it. Because he thought I could do it, I did it. I enrolled at Southern Utah University in Cedar City. So at one point I was driving to Cedar City two days a week and Las Vegas one day a week, and I was taking classes at Dixie, and even teaching a 101 class."
Whitehead conducts the Southern Virginia flute choir and also performs with the Rockbridge Symphony, University-Shenandoah Symphony Orchestra and periodically with the Rockbridge Choral Society. She played principal flute with the Southwest Symphony Orchestra for more than fifteen years and has been a featured soloist in the Temple Square Concert Series as well as at Abravanel Hall in Salt Lake City.
Van Kuiken, the new Kay and Michael Elton Professor of Chemistry, joined the faculty of Southern Virginia in 2000. She holds a master's degree in chemistry and a doctorate in molecular biology, biochemistry and microbiology, with the emphasis of her doctoral training in enzyme biochemistry and biophysical chemistry.
Her research on fatty acids and enzyme activity earned her an award from the University of Cincinnati College of Medicine. She has focused her research on understanding the biochemical mechanisms of asthma, cancer and aging. She has published papers in several biochemical journals and presented the results at various national and international scientific meetings.