News Release
Southern Virginia Presents Student's Original Play, 'Battlefield of Love,' Feb. 8-9, 15-16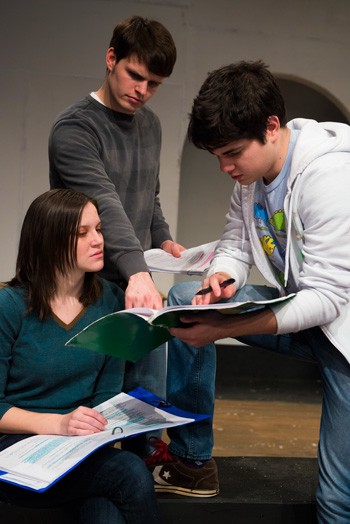 Southern Virginia University Theatre will present "Battlefield of Love (Or Gloria and the Cat)," a play written by Mika McIntosh, a Southern Virginia senior majoring in English from Casper, Wyo., on Friday and Saturday, Feb. 8–9 and 15–16, at 7:30 p.m. in Chandler Hall at Southern Virginia University.
"Battlefield of Love" is a satire of contemporary American culture that centers on the action in a fictional reality television show. McIntosh said that he began writing the play at the request of Robert Stoddard, associate professor of theatre at Southern Virginia, after McIntosh wrote one-act plays for Stoddard's playwriting and dramatic literature classes.
"What attracted me to Mika's work was that he takes a relatively trivial framework, like a reality game show, and he uses that to comment on and satirize our contemporary culture," said Stoddard, who also is the show's director. "It's very literary in a way because he's not just doing a spoof on game shows — it's much more than that. He adds deeper layers about personal relationships, isolation, longing and what our culture means to us."
The play follows Alphonse Grimshaw — played by Karl Bedford, a business major from Jacksonville, Fla. — a reclusive former musical celebrity and critic of modern society. The play's conflict ensues when Grimshaw's best friend ropes him into appearing on a reality TV show — "Battlefield of Love" — as a bachelor surrounded by seven female contestants vying for his affection.
"The show is full of very modern humor and it's kind of a jab at the American zeitgeist with fashion and reality TV," said McIntosh. "There are a lot of pop culture references — one of the characters played a role similar to Dora the Explorer on a TV show when she was a little girl. I thought, if Dora was a real little girl, how would that experience affect her later in life? And that's how the character Gloria came about."
The play features a cast of 15 Southern Virginia students who play a variety of roles from a kleptomaniac to a conspiracy theorist.
"I tried to choose people who had a conversational style of acting because I figure the key to this play is making it sound real even though they're doing outrageous things," said Stoddard. "All I can say is that I laugh during rehearsals a lot and I think we're all having a good time coming up with actions that illuminate Mika's play."
McIntosh said that the play began as a modern-day adaptation of Moliere's "The Misanthrope," but now bears little resemblance to Moliere's work beyond Grimshaw's misanthropic persona. He also said that he is grateful for the opportunity to have his work presented as one of Southern Virginia's main stage productions.
"This is the genius of small," said McIntosh. "I don't know if I would have gotten this opportunity at a larger school. I feel honored that Professor Stoddard would have enough trust in my writing abilities to give me this opportunity."
During his time at Southern Virginia, McIntosh has taken four creative writing courses, as well as both screenwriting and playwriting courses. He also interns for the Communications and Marketing Office as a writer for the university blog and has participated in writing a student-run webseries.
Tickets for "Battlefield of Love" are $7 for the general public and $5 for senior citizens and Southern Virginia students, faculty and staff. Tickets may be purchased in advance by calling 540–261–8405 or at the door prior to each performance.