News Release
Southern Virginia Presents 'Servant of Two Masters' Sept. 13-14, 20-21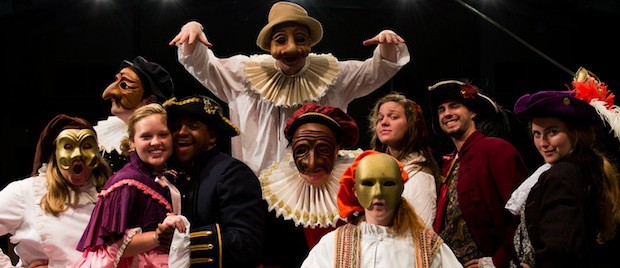 Southern Virginia University Theatre presents Carlo Goldoni's comedy "Servant of Two Masters" on Friday and Saturday, Sept. 13–14, and the following weekend, Sept. 20–21, at 7:30 p.m. in Chandler Hall.
"Servant of Two Masters," written in 1743, is an Italian play with characters based on the theatre style Commedia dell'arte. Common elements of commedia include physical comedy known as lazzi and a number of stock characters.
"I like the speed of the performance," said Robert Stoddard, the show's director and associate professor of theatre at Southern Virginia. "I have really enjoyed working with the actors to come up with these bits of comedy — called lazzi. This has been a very collaborative play and it's been really encouraging to see the actors grow and develop as they've been learning this new style of theatre."
The play follows Truffaldino, a comical servant who will stop at nothing to get an extra meal — including serving a second master. Truffaldino's decisions and the other events of the play lead to a series of mistaken identities as well as the slapstick comedy that commedia is known for.
"I think that the audience will enjoy how interactive and hilarious this show is," said Gloria Bowden, a junior from South Jordan, Utah, who plays the role of Beatrice. "It's very open. It's like a hilarious conversation with the audience with some dialogue in between. There's everything from chase scenes to hitting each other with slapsticks to sword fights."
"Servant of Two Masters" features a cast of one Southern Virginia alumnus and 10 Southern Virginia students.
Caleb Shiraki, a Southern Virginia student who plays the role of Doctor Lombardi, said that he enjoys that "each of the characters [in commedia dell'arte] has a set personality." He said that he appreciates the opportunity to incorporate the mask traditionally worn by many characters in commedia into his acting.
"Probably the thing I enjoy the most is being able to wear the mask," said Shiraki. "You can't make facial expressions, so everything about your character has to be expressed with your body."
Tickets for "Servant of Two Masters" are $7 for the general public and $5 for senior citizens and Southern Virginia students, faculty and staff. Tickets can be purchased in advance by calling 540–261–8405, or at the door prior to each performance.