News Release
Southern Virginia Presents 'Hello, Dolly!' Nov. 8-9, 14-16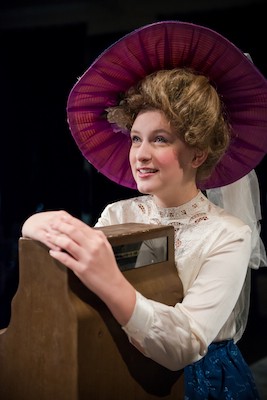 Southern Virginia University's theatre program will showcase "Hello, Dolly!" — a musical written by Michael Stewart and Jerry Herman — on Friday and Saturday, Nov. 8 and 9, at 7:30 p.m. in Chandler Hall. It will be performed again the following weekend, Nov. 14 to 16.
Written and originally performed on Broadway in 1964, "Hello, Dolly!" chronicles the story of a turn-of-the-century New York matchmaker, Dolly Gallagher Levi, who begins to crave a man of her own. The play is known for being quick, engaging and full of comedy, big personalities, and elaborate musical numbers. While mainly comedy, woven throughout the play are moments of sincere emotion and introspection.
"This is a feel-good show," said Robert Stoddard, the musical's director and associate professor of theatre at Southern Virginia. "The songs are catchy and vastly entertaining, and of course the title song, 'Hello, Dolly!' never fails to win over the audience. It's one of the defining moments in musical theatre history, and you'll fall in love with our 'Dolly' as played by Greta Goesch, especially when she descends the staircase in her red dress to sing the title song."
Reva Rogers, a sophomore from Palm City, Fla., and one of 26 actors in the show, explained how being in the show opened her eyes to how unique the theatre program at Southern Virginia truly is.
"We always start every rehearsal with a prayer and a devotional, so it's nice being able to start with the Spirit already there," Rogers said. "There's not as much contention or bickering."
A seasoned singer and performer, Rogers said that the cast is more like a family than a group of competing talent.
"If you don't feel good at something, you can approach anyone in the cast for help," she said. "We feed off each other's strengths and help with the weaknesses."
According to Rogers, members of the cast work hard in rehearsal, which usually lasts from 6:30 p.m. to 10:00 p.m. Rogers said that the cast "takes a break" on Monday nights "to attend family home evening" and then continues working from 8:30 p.m. to 10 p.m.
When asked about her favorite scene, Rogers said she loves the dinner scene, "which is my scene — so maybe I'm a little biased — but I really think it's the funniest part. I mean, I dance on a table with a roasted pig on my head."
Tickets for "Hello, Dolly!" are $10 for the general public and $7 for senior citizens and Southern Virginia students, faculty and staff. Tickets can be purchased in advance by calling 540–261–8405, or at the door prior to each performance while seats are still available.