Spotlight
Volunteer, Professor Named Fellow of National Council on Family Relations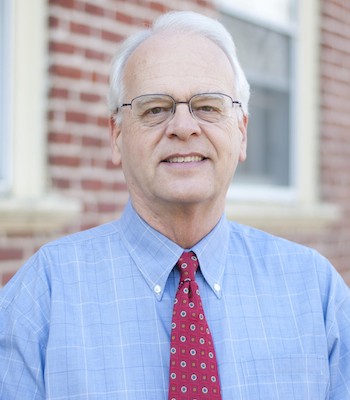 The National Council on Family Relations named Dr. Thomas Holman, visiting professor of family and child development at Southern Virginia University, an NCFR Fellow at the organization's annual conference last month.
According to the NCFR's website, "Fellow Status in NCFR is an honor awarded to relatively few living members on the basis of their outstanding contributions to family science."
"He has decades of experience teaching," said Dr. Ariel Rodriguez, family and child development program coordinator at Southern Virginia. "He's also had a very productive research career and has a lot of expertise in romantic relationships and what students can do to prepare for marriage. We're happy to have him at Southern Virginia and proud that he's received this recognition."
Before coming to Southern Virginia as a volunteer to teach courses this academic year, Holman worked for 28 years at Brigham Young University — where he served as professor of family life, associate director in the School of Family Life for Outreach Education, and chair of the Marriage, Family, and Human Development Program. While working at BYU, Holman taught several classes taken by Rodriguez.
"He was very intellectually engaging," said Rodriguez. "And he encouraged me to think critically about the material that I was learning . . . In one of my classes with Tom, we had to write a proposal for a research project based on what we were studying. Later on, as I thought about my master's thesis, I approached Tom and asked him if he would be the chair of my thesis committee. He agreed and supervised my thesis. I worked with him at length on that project."
Holman and Rodriguez stayed in touch over the years following Rodriguez' graduation from BYU. Holman said that the idea of coming to Southern Virginia after he retired "was in the back of [his] head" for a while because Rodriguez had invited him and showed him the campus a few years ago.
"One of the primary reasons I came was that I wanted to come to a place where all I had to do was be a teacher and teach small classes," said Holman. "At BYU, they have a strong research focus."
Holman said that because of this emphasis on research, BYU employed teaching assistants, who did much of the grading in his classes.
"What that meant is that I had a kind of distance from the student," he said. "I wasn't reading their papers. In my classes, I often have them use their personal experiences to illustrate the academic research principles. I haven't read those for 10 to 15 years in my classes. I realized that I wasn't getting to know my students so I wanted to come here where I can do that. I also wanted to get more involved in student life — silly, little things like walking to the basketball games."
Rodriguez said that he has enjoyed seeing Holman and his wife become involved in the Southern Virginia community.
"Every time I go to a game I see them there," said Rodriguez. "I see them volunteering to hang up Christmas lights, teaching an Institute class, and just walking around campus. They've really come here to be a part of Southern Virginia. I've just been delighted that they're getting involved at this level because I know they're reaching a lot more students that way."
Holman is currently teaching two courses at Southern Virginia: family process and a course on Holman's primary research focuses — relationship formation, mate selection, and marriage. His research interests also have included marital quality in the early stage of marriage, and the development of family theory.
Holman has written scholarly books including "Premarital Prediction of Marital Quality and Stability," and "Latter-day Saint Courtship Processes." He also has written several book chapters and numerous articles published in academic journals. Additionally, he has presented at conferences both nationally and internationally.
Holman and his wife, Linda, have five children and nine grandchildren. Linda Holman also is volunteering at Southern Virginia. She assists the public affairs manager in hosting guests and speakers at the university. Additionally, she volunteers at Kling Elementary School as a reading teacher.
"We love the community," said Thomas Holman. "There's just a sense at Southern Virginia that we're becoming something — that we're something special and unique and we're going to get even better as we keep growing. I love the small campus feel and the enthusiasm that you can feel from faculty and administrators. That's been really fun."