Spotlight
Professor Attends 'Iliad' Seminar at Harvard's Center for Hellenic Studies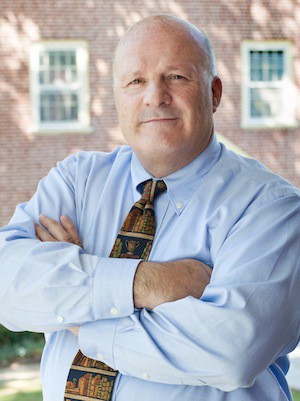 Dr. Randall Cluff, professor of English at Southern Virginia University, attended a seminar on Homer's "Iliad" at Harvard University's Center for Hellenic Studies in Washington, D.C., this summer.
The seminar was co-hosted by the Council of Independent Colleges and the Center for Hellenic Studies and led by CHS Director Dr. Gregory Nagy — the Francis Jones Professor of Classical Greek Literature at the Harvard campus in Cambridge, Mass., and a leading scholar of Homeric studies — and Dr. Kenneth Scott Morrell, associate professor and chair of Greek and Roman studies at Rhodes College. Throughout the course of the week, participants read and discussed the entire "Iliad" as well as an ample collection of supplementary readings.
"This seminar has been one of the most remarkable experiences of my academic career — a true highlight, and it was a privilege to be selected," said Cluff. "The seminar was so rich that I have gained many new perspectives and insights into the poem that I want to incorporate in my [Western literature] course. My encounter with the poem has deepened and this will no doubt influence what I do together with my students."
Specifically, Cluff said that he plans to place greater emphasis on "the performative aspect" of the "Iliad." He said that he wants to redesign at least one course assignment to "focus on performance in some relevant way so that the performative dimension of the poem emerges more fully."
Cluff, whose passion for Homer's "Iliad" began when he read the majority of the poem in one sitting as an undergraduate, presented three times at the seminar. He said that prior to attending the seminar, he thought that because he "did not know Greek," and was "foremost an American literature scholar," he wouldn't have anything original to contribute on Homeric scholarship.
"However, on the last day during my group's presentation on Book 23 of 'The Iliad,' based on readings from the seminar and Homer's text, I presented an idea I had worked out regarding Homer's use of the formula 'winged words' that Greg Nagy said had not been noticed before," said Cluff. "He wants me to write it up and send it to him. I was delighted with such an outcome from the seminar."
He said that while studying "The Iliad" in depth for the seminar, he realized "where part of its lasting power comes from."
"The poem is brilliant in so many ways," said Cluff. "Considered the first work of Western literature, many also say it's the greatest work of Western literature. And one of the things that happens as you study Homer is that everything expands, and 'The Iliad' becomes not just Homer's or Achilles' story, not just the story of the Trojan War, but the story of all wars. When you begin thinking of 'The Iliad' in that broader context and reading it that way, Homer's poem becomes a very timely and moving work to read and study. It's made a deep impression on me from the first time I read it, and I never tire of helping my students discover the impact of 'The Iliad' for themselves."