News Release
Orson Scott Card Forum, Book Signing at Southern Virginia Oct. 18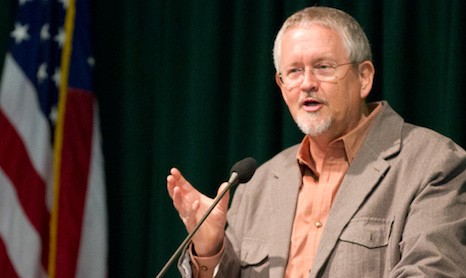 Orson Scott Card, prominent American novelist and distinguished professor of English at Southern Virginia University, will give a forum address titled "Literature, Logic, and the Scientific Method" during Homecoming on Friday, Oct. 18, at 11 a.m. in the Stoddard Center at Southern Virginia.
In the afternoon following the forum, Card will sign copies of his books in the Von Canon Library at Southern Virginia at 3:30 p.m. Books will be available for purchase at the university's Bookstore.
Card is the author of the novel "Ender's Game" and co-producer of a new film adaptation of "Ender's Game" that will be released next month. His books "Ender's Game" and "Speaker for the Dead" both won the Hugo Award and the Nebula Award, making Card the only author to receive both of science fiction's top awards in consecutive years.
He has written many other novels including a number of fantasy and science fiction works, as well as novels about women from the Bible. He also has written many articles, screenplays and plays. Card has received numerous awards for his work as a writer including the Margaret A. Edwards Award from the American Library Association and the Whitney Awards' Lifetime Achievement Award.
Card received a bachelor's degree in theatre from Brigham Young University and a master's degree in English from the University of Utah. He also completed a year of a doctoral program at the University of Notre Dame.
A member of The Church of Jesus Christ of Latter-day Saints, Card served a full-time mission to Brazil in the 1970s.
Card and his wife, Kristine, currently reside in Greensboro, N.C.
Community members and Southern Virginia faculty, staff and students are invited to hear forum and devotional speakers each Friday morning at 11 a.m. in the Stoddard Center. Recordings of past forum and devotional speeches may be accessed online.