News Release
No Tuition Increase for 2013-2014 Academic Year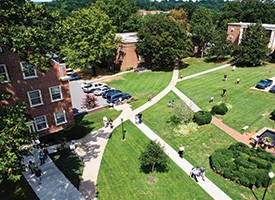 The Southern Virginia University President's Council today announced that tuition for the 2013–2014 academic year at Southern Virginia will not increase.
"While education costs are skyrocketing across the country, we've decided not to increase tuition next year in the hope that we can help all students be able to afford a quality Southern Virginia education," said President Paul K. Sybrowsky. "We also provide students with a cost-effective option by offering a number of scholarships — including a returned missionary grant — and summer terms at reduced rates."
Last year, the national average tuition increase was 4.2 percent at private universities and 4.8 percent at public universities, according to the College Board's "Trends in College Pricing" report. Southern Virginia tuition will remain at $9,450 per semester for full-time students, not including the financial aid options available to students such as grants and scholarships.
Including the coming year, Southern Virginia's average tuition increase for the last six years is 2.3 percent.
2008–2009–0% increase

2009–2010–3% increase

2010–2011–4.7% increase

2011–2012–2.8% increase

2012–2013–3.3% increase

2013–2014–0% increase
On-Campus Housing
On-campus housing rates will increase slightly for 2013–2014, while continuing to provide incremental privileges and decreased costs for upperclassmen. These costs include room, utilities and Internet access per semester.
First-year students — $1,750

Sophomores — $1,550

Juniors — $1,300

Seniors — $1,200
All students living in on-campus housing also will continue to pay a $50 fee for unlimited use of laundry facilities.
Additionally, the cost of the Dining Dollars Plus meal plan will increase by $50 per semester for a total of $1,650; the Dining Dollars Plus plan includes unlimited meals in the dining hall and $150 of campus cash to be used in Jonzzey's Café, the bookstore, the mailroom and other places on campus. The Campus Cash meal plan will remain at a total of $1,100.
Summer Term Housing
Summer term housing in the 2013–2014 academic year will be offered at a weekly rate of $95, which totals approximately $380 each month, or $760 per term.