News Release
Mitt Romney to Speak at Commencement April 27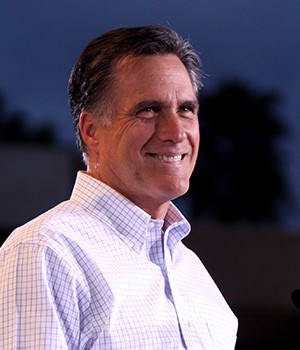 Mitt Romney, former governor of Massachusetts and Republican Party nominee for President of the United States in the 2012 election, will address graduates, faculty, staff, students and friends of Southern Virginia University at the 2013 commencement exercises on Saturday, April 27, at 10 a.m. in front of the university's Main Hall in Buena Vista, Va.
"We are delighted to have Mitt Romney as our commencement speaker and the recipient of an honorary doctorate," said Paul K. Sybrowsky, the university's president. "Mitt exemplifies what we hope all of our students will become — leader-servants. He was the student speaker at his own college graduation exercises some 42 years ago."
Romney served as the 70th governor of Massachusetts from 2003 to 2007. During his term as governor, he oversaw the creation of the Massachusetts health care reform legislation and the reduction of a $3 billion deficit. Following his service as governor, he ran for the 2008 Republican nomination for president, winning several primaries and caucuses. In 2012, he was the Republican Party's nominee for president, becoming the first member of The Church of Jesus Christ of Latter-day Saints to serve as a major party presidential nominee.
He previously cofounded Bain Capital, an investment firm, and served as CEO of Bain & Company. He also served as president and CEO of the Salt Lake Organizing Committee for the 2002 Winter Olympics. He is the author of "No Apology: The Case for American Greatness" and coauthor of "Turnaround: Crisis, Leadership, and the Olympic Games."
Romney received a bachelor's degree from Brigham Young University in 1971 and both a juris doctorate and a master's degree in business administration from Harvard University in 1975. He has received five honorary doctorates as well as awards including the Truce Ideal Award and the Distinguished Alumni Award from Cranbrook School. In 2012, Time included Romney in a list of the 100 most influential people in the world.
An active member of the Church, Romney has served in ecclesiastical leadership positions including stake president and bishop. Romney's great uncle, Thomas Cottam Romney, served as one of the first LDS missionaries in Buena Vista, Va., in the 1890s and recorded many of his experiences as a missionary in his autobiography, "A Divinity Shapes Our Ends."
Mitt Romney and his wife, Ann, received the Canterbury Medal from the Becket Fund for Religious Liberty in 2008. Mitt and Ann Romney have five children and twenty grandchildren.
"Former Governor Romney will find our students among the brightest in the country," said President Sybrowsky. "In this year's graduating class we have students who have been admitted to several medical schools, outstanding law schools and prestigious graduate programs in Europe. We see our students going on to achieve in their fields of endeavor because they have been the recipients of superb educations due to 'the genius of small.' Interaction between students and faculty is phenomenal here."
Southern Virginia University is the only private liberal arts college that serves Latter-day Saints and those with similar values. Founded in 1867 as a school for women, Southern Virginia was renewed in 1996 as a four-year, coeducational institution with a code of honor based on the teachings and tenets of the Church.
Photo by Gage Skidmore, Creative Commons License