Spotlight
Men's Basketball to Support Nattie Brooks, Raise Awareness for GTD

The Southern Virginia University men's basketball team is dedicating Wednesday's home game against Mary Washington University to Nattie Brooks, wife of senior shooting guard Payton Brooks, who at the age of 24 was recently diagnosed with Gestational Trophoblastic Disease (GTD) — a rare illness caused by pregnancy-related tumors.
"Our team will be wearing teal socks on Wednesday to show support for Nattie," said first-year coach Tony Caputo, who currently has his Knights (9–3) off to the best start in school history. "We are hoping for a record turnout and invite all fans to wear teal to show solidarity with the Brooks family."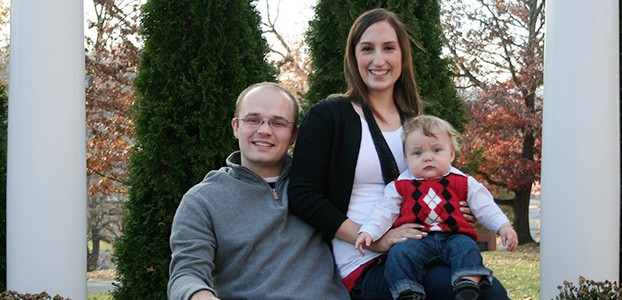 Nattie, who has never missed one of Payton's home games in two-and-a-half years of marriage, was diagnosed with GTD in late September, four months after the birth of the couple's first child, Eason Brooks.
"We were shocked and scared when we first heard the diagnosis," said Payton. "We had so little information at the time and so many questions. All the worst scenarios run through your mind and I just remember thinking how important Nattie and Eason were to me."
Fortunately for the Brooks, a series of tests and scans revealed that the trophoblastic tumors in Nattie's body had not yet migrated to her heart, liver or brain. On Oct. 3, Nattie began chemotherapy at the Augusta Health Medical Center in Fishersville, Va., where she has traveled every Wednesday since for either a five-hour or 30-hour chemotherapy session.
"It's been a difficult few months, but we feel very blessed to be at Southern Virginia University," said Nattie. "Before we decided to come here, Payton was also considering schools in Billings, Mont., and Lewiston, Idaho. In either place we would have been hundreds of miles from a facility like Augusta Health and now we are 45 minutes from a first-rate cancer center."
Devout members of The Church of Jesus Christ of Latter-day Saints, the Brooks also explained that this experience has brought them closer to each other, as well as to their faith.
"When you're faced with your own mortality, you start to view life differently," said Nattie. "It makes me appreciate my marriage. It makes me grateful for eternal families and the knowledge we have as Latter-day Saints."
Payton, who, in addition to taking a full course load and participating on the men's basketball team, also serves as the first counselor in the the Buena Vista YSA 3rd Ward and works as an intern in Southern Virginia's financial services office, insisted that this trial has been a blessing in disguise.
"It's definitely brought us closer to each other and our family," Payton said. "Honestly, it's put sports in perspective for me and we want to use this game as a chance to raise awareness about GTD and show support for Nattie."
Community members and Southern Virginia students, faculty, and staff are invited to attend Wednesday's game at 7 p.m. in the Knight Sports Arena and wear teal to show support for Nattie and others with this condition.