Spotlight
Jason Lamb to Coach Italian National Team at World Lacrosse Championship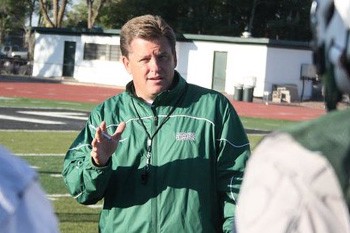 Throughout the coming year, Southern Virginia University Head Lacrosse Coach Jason Lamb will periodically return to the country where he served a full-time mission for The Church of Jesus Christ of Latter-day Saints to coach the Italian National Lacrosse Team.
Lamb, one of two coaches working to select and prepare the Italian team for the 2014 World Lacrosse Championship in Denver, Colo., will serve as defensive coordinator for the team.
"I'm proud to help represent the country where I served my mission," said Lamb. "I'm excited to be associated with the world championship — it's an honor to be involved."
After completing his mission to Italy, Lamb attended Brigham Young University — where he majored in Italian literature and took several courses from Dr. Madison U. Sowell, who now serves as provost at Southern Virginia.
Lamb said that Sowell's course on Dante, which Sowell regularly teaches at Southern Virginia, was "one of the hardest classes I ever took, but the class I remember the most."
"[Lamb's] dual passion for Italian and lacrosse impressed me from the start because of the diversity of these two interests," said Sowell. "He is deeply respected in the world of lacrosse because of his success training athletes and mentoring them on and off the field. It pleases me that he can now combine his love for Italy and for lacrosse by helping to coach the Italian National Lacrosse Team."
While Lamb served as head men's lacrosse coach at BYU, Sowell taught religion classes to many of the students on Lamb's team. Lamb said that he appreciates being able to continue his association with Sowell at Southern Virginia. He said that in addition to representing Italy, he also is excited to represent Southern Virginia's lacrosse program.
"I want more exposure to Southern Virginia University through the people I come in contact with as I continue to help with international teams and professional teams," said Lamb. "I've always tried to do more and know more [because] the better I make myself, the better I represent Southern Virginia and the better I make my lacrosse program. I want to pursue this kind of opportunity because I'm bringing all of that back to Southern Virginia."
Lamb previously has coached both internationally and professionally. He also has led numerous lacrosse camps and coached at the University of Notre Dame, Adams State College and Brigham Young University.