News Release
Jason Lamb Named Director of Lacrosse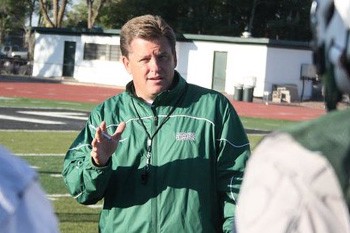 Southern Virginia University Athletic Director Scott Y. Doxey today announced that Jason Lamb — one of the most accomplished and well-known coaches in both collegiate and international lacrosse — will become the university's first-ever director of lacrosse effective immediately.
Lamb comes to Southern Virginia from the University of Notre Dame, where he has served as director of operations for men's lacrosse since February 2012. During Lamb's two seasons at Notre Dame, The Fighting Irish reached the NCAA Division I Championship semifinal and quarterfinal rounds in 2012 and 2013, respectively.
"We're pleased that Jason Lamb is joining our athletics staff and will be directing the only NCAA-sanctioned lacrosse programs in the nation with an LDS environment," said Doxey. "He has a passion for lacrosse and a proven track record of success."
Lamb will oversee the Southern Virginia men's and women's lacrosse programs and serve as head men's lacrosse coach as both teams enter their first year of competition in the highly-competitive NCAA Division III Capital Athletic Conference.
"I'm grateful for the opportunity to lead men's and women's lacrosse at Southern Virginia," said Lamb. "We'll work tirelessly to recruit and develop the right type of scholar-athletes who attain success on the field and in every aspect of their lives."
Prior to his tenure at Notre Dame, Lamb was the director of lacrosse at NCAA Division II Adams State College in Alamosa, Colo., from 2010 to 2012. He oversaw the start-up of the Grizzlies men's and women's lacrosse programs prior to their inaugural season as members of the Western Intercollegiate Lacrosse Association in 2011.
During the summer of 2011, Lamb also joined the Denver Outlaws of Major League Lacrosse as an assistant coach. His connection with the Outlaws helped facilitate a match between Adams State and WILA-rival Colorado Mesa University at Mile High Stadium.
From 1995 to 2010, Lamb was the head men's lacrosse coach at Brigham Young University amassing a 213–69 (.755) record and guiding the Cougars to three Men's Collegiate Lacrosse Association national championships and seven Rocky Mountain Lacrosse Conference titles during his tenure. In 2006, Lamb was named MCLA Coach of the Year.
Lamb was also instrumental in organizing the MCLA — a national organization for institutions that do not sponsor intercollegiate lacrosse at the varsity level — and served as the MCLA's president from 1997 to 2003. BYU is currently a Division I-affiliate of the MCLA, while Southern Virginia competed at the MCLA's Division II-level from 2004 to 2012.
As a student at BYU, Lamb had a standout career on the men's lacrosse team serving as an on-field coach and team captain during his junior and senior seasons. Following graduation, he became the Cougars' first-ever non-playing coach.
Lamb has also been successful head coach at the international level of lacrosse leading the USA West All-Stars to a 34–5 (.872) mark to go along with several international titles, including the 2002 Open Division Championship at the Lacrosse Federation World Games in Perth, Australia, the 2004 Prague Cup in Prague, Czech Republic, and the 2006 ASPAC Championship in Osaka, Japan.
The Rocky Point, N.Y., native graduated from Brigham Young University with a bachelor's degree in Italian. He served a full-time mission for The Church of Jesus Christ of Latter-day Saints in Rome, Italy.
"I am very excited to compete in the Capital Athletic Conference, which is home to some of the top Division III lacrosse programs in the nation," said Lamb. "We'll work hard to be competitive within the conference with the goal of building Southern Virginia men's and women's lacrosse into nationally recognized programs."
Southern Virginia joins the Capital Athletic Conference — one of the premier DIII athletic conferences for lacrosse and home to recently-crowned 2013 NCAA Division III Women's Lacrosse National Champion Salisbury University — effective July 1, 2013.
For more information about Southern Virginia lacrosse contact Jason Lamb at 719–580–0333 or jason.lamb@svu.edu.