News Release
Jason Lamb Named Associate Athletic Director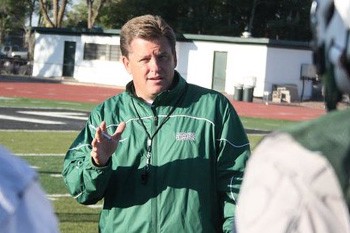 Southern Virginia University Athletic Director Scott Y. Doxey today announced that Director of Lacrosse Jason Lamb has been named associate athletic director effective immediately.
In addition to his new position, Lamb will continue to serve as Southern Virginia's director of lacrosse. His primary responsibilities as the associate athletic director will include the day-to-day operations of athletics, game-day management and facilities scheduling.
He will also oversee equipment acquisition and management, summer camp operations, preparation of the university's annual athletics report and continue his membership in the Athletic Leadership Council at Southern Virginia.
"Jason's background in athletics operations combined with his successful coaching record make him an ideal fit for this position," Doxey said. "We believe that he can mentor our coaches and help our entire athletics department achieve even more as we continue to compete in DIII and the Capital Athletic Conference."
Doxey will retain the responsibility of driving the vision and direction of the Southern Virginia athletics program and working with coaches to realize those objectives. He will also continue to oversee the Athletic Leadership Council and build relationships between the National Collegiate Athletic Association, the Capital Athletic Conference and the United States Collegiate Athletic Association.
The 2014 lacrosse season will be Lamb's first as the university's director of lacrosse.
"I'm excited about the opportunity to be more involved with Southern Virginia University Athletics," Lamb said. "I believe I can help based on the past experiences I have had at other universities and will do all that I can to make Southern Virginia athletics great."
Lamb came to Southern Virginia in August from the University of Notre Dame, where he served as director of operations for men's lacrosse since February 2012. During Lamb's two seasons at Notre Dame, The Fighting Irish reached the NCAA Division I Championship semifinal and quarterfinal rounds in 2012 and 2013, respectively.
Prior to his tenure at Notre Dame, Lamb was the director of lacrosse at NCAA Division II Adams State College in Alamosa, Colo., from 2010 to 2012. He oversaw the start-up of the Grizzlies men's and women's lacrosse programs prior to their inaugural season as members of the Western Intercollegiate Lacrosse Association in 2011.
From 1995 to 2010, Lamb was the head men's lacrosse coach at Brigham Young University amassing a 213–69 (.755) record and guiding the Cougars to three Men's Collegiate Lacrosse Association national championships and seven Rocky Mountain Lacrosse Conference titles during his tenure. In 2006, Lamb was named MCLA Coach of the Year.
Lamb was also instrumental in organizing the MCLA — a national organization for institutions that do not sponsor intercollegiate lacrosse at the varsity level — and served as the MCLA's president from 1997 to 2003. BYU is currently a Division I-affiliate of the MCLA, while Southern Virginia competed at the MCLA's Division II-level from 2004 to 2012 before moving to the NCAA DIII level.
The Rocky Point, N.Y., native graduated from Brigham Young University with a bachelor's degree in Italian. He served a full-time mission for The Church of Jesus Christ of Latter-day Saints in Rome, Italy. Lamb also serves as a defensive assistant coach for the Italian national lacrosse team and is helping prepare the club for the 2014 World Lacrosse Championships in Denver, Colo., next summer.