Spotlight
History Professor Attends Stanford Seminar
This summer, Dr. Francis MacDonnell, professor of history at Southern Virginia University, attended a week-long seminar at Stanford University.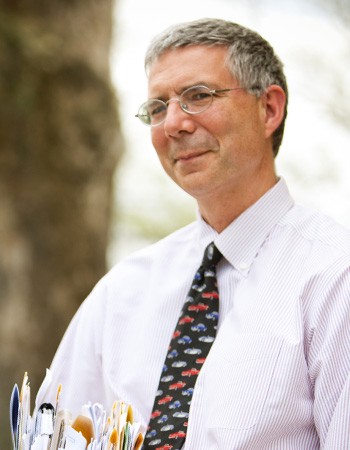 The seminar featured lectures and discussions on the Gilded Age, the period in post-Civil War America known for industrial growth and political corruption. The seminar was organized by the Council of Independent Colleges, which regularly offers seminars for college professors across the nation.
"It's kind of like continuing education for professors," MacDonnell said. "The experience was a bit like going back to graduate school. We read hundreds of pages, listened to great lectures, participated in lively discussions, and had a chance to rethink some of the conventional wisdom about the Gilded Age. There's nothing as exhilarating as the chance to become a student again."
The seminar was led by Richard White, one of the leading experts on the Gilded Age who is currently completing a volume about the period for the Oxford History of the United States. MacDonnell said that White emphasized parallels between the era and contemporary political issues, like distrust in political and corporate institutions, debates over immigration, growing social inequality, and rapid expansion of technology.
"White is in the middle of pulling together this big volume," MacDonnell said. "He brought out 25 professors from small colleges to discuss important trends in scholarship — I think to challenge us to think about the period in different ways. And also, I think, to ask him questions about his interpretation. Really, it was an incredible chance for an intellectual recharge."
MacDonnell is excited to share his experience with his classes at Southern Virginia.
"I look forward to bringing back to Southern Virginia students the new approaches to the post-Civil War era presented at the seminar," he said.
MacDonnell has served on the faculty at Southern Virginia since 1997. Previously, he served as a lecturer in history at Yale University. He received his doctoral degree from Harvard University and is the author of "Insidious Foes: The Axis Fifth Column and the American Home Front," as well as articles published by the International Journal of Intelligence and Counter Intelligence, Civil War History, and the Journal of American Culture. He has presented scholarly papers at organizations including the Society for Historians of American Foreign Relations, the Southern Historical Association, and the Organization of American Historians.