News Release
Former President of Communications Firm to Speak at Devotional March 29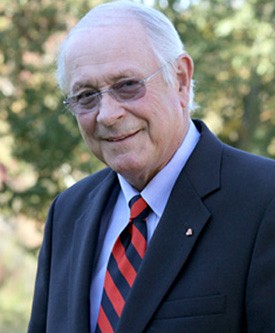 Dr. E. Ben Howerton Jr., former president of Synergy Inc, will give a devotional address titled "A Wonderful Accidental Journey — Lessons Learned Along the Way" on Friday, March 29, at 11 a.m. in the Stoddard Center at Southern Virginia University.
Howerton previously served as president and CEO of Synergy Inc., a marketing, communications, advertising and design firm. He also has served as the company's president of information and education utility, and as a consultant to numerous Fortune 500 companies, school boards, colleges and universities. He specializes in areas including educational law, policy analysis, strategic planning, executive search, dispute resolution, and foundation development.
He has served as a consultant of USAID to Afghanistan and ministries in Central America, South America, and Germany.
Howerton has served as executive educational administrator at the local and state levels in Virginia, serving for fifteen years in the capacities of assistant state superintendent, chief deputy state superintendent and coordinating state superintendent for special schools. He served briefly as interim state superintendent of education. He also has served as a faculty member of the University of Virginia — specializing in educational law — and of George Washington University, where he also served as director of educational leadership and policy studies. He also was an executive with the Virginia School Boards Association.
In 1984, Howerton was selected as one of fourteen White House Fellows and as policy advisor to the United States Secretary of Education.
Howerton holds a bachelor's degree in religious philosophy, a master's degree in law and a doctorate in educational leadership and policy studies, all from The University of Virginia. He completed post-doctoral study in employee and labor relations at Cornell University and in educational law at Harvard University.
Howerton and his wife, Margaret, reside in Richmond, Va.
Community members and Southern Virginia faculty, staff and students are invited to hear forum and devotional speakers each Friday morning at 11 a.m. in the Stoddard Center. Recordings of past forum and devotional speeches may be accessed at online.