News Release
Former General Authority to Give Devotional March 15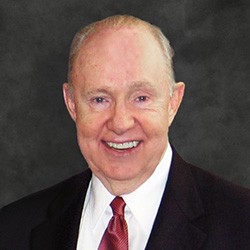 David R. Stone, former member of the Second Quorum of the Seventy of The Church of Jesus Christ of Latter-day Saints, will give a devotional address titled "To the Uttermost Ends of the Earth" on Friday, March 15, at 11 a.m. in the Stoddard Center at Southern Virginia University.
During his service as a general authority, he served as president of the South America West Area and president of the Australia Area of the Church. He also gave addresses in sessions of the Church's General Conference, including an address titled "Zion in the Midst of Babylon" in April 2006.
Stone previously served as president, international, of Black & Decker and has worked in international business for companies like Procter and Gamble and The Gillette Company.
Stone was born in Argentina and moved to the United States at the age of 18, enrolling at Brigham Young University, from which he later received a bachelor's degree.
Stone has served in numerous callings in the Church, including service as a mission president in the Dominican Republic from 1996 to 1999.
He and his wife, Rosalie, have six children and eleven grandchildren.
Community members and Southern Virginia faculty, staff and students are invited to hear forum and devotional speakers each Friday morning at 11 a.m. in the Stoddard Center. Recordings of past forum and devotional speeches may be accessed at online.