Spotlight
Entrepreneurs, Alumni Find Fulfilling, Family-Centered Careers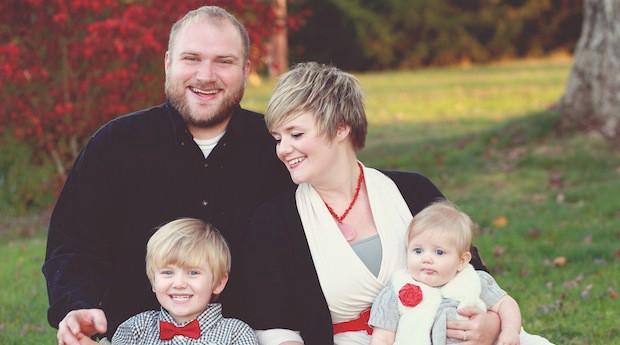 A day at work for entrepreneurial alumni couple Brinn ('07) and Frederick "F.W." Willis ('08) includes pursuits as varied as photographing a family on the Willis' three-acre property to building a rustic, antique-style chicken coop — all while caring for their two young children at their home in Rockbridge County, Va.
During the past few years, the husband and wife have each started their own business. Brinn Willis runs a successful photography business, BMW Photography, while her husband creates custom, antique-style buildings for historic sites and other interested customers.
The couple met in Northern Virginia and after both serving missions for The Church of Jesus Christ of Latter-day Saints, became engaged and decided to attend Southern Virginia University together.
After Frederick Willis graduated with a bachelor's degree in history from Southern Virginia, he received a master's degree in education from Mary Baldwin College and taught in the Buena Vista City public school system for two years. He then accepted a position as a costumed interpreter at the Frontier Culture Museum in Staunton, Va.
Frederick Willis, a graduate of Southern Virginia University, building an antique construction

"I really loved it there, it's a living history museum, so I wore 1850s clothing and worked on an actual 1850s farm, relocated from Eagle Rock, Va.," he said. "I've always had a knack for building things, but I guess getting a taste of how people took the most basic, raw materials and turned them into anything and everything they needed to thrive and be successful really started a fire inside of me."
During a winter break from work at the museum, Frederick Willis bought a load of lumber from a local sawmill and made several chicken coops to sell on Craigslist.
"I added a little line about contacting me for custom orders and that was it, the emails started rolling in and I had orders backed up for two, then three, and eventually six or seven weeks," he said. "I knew then that returning to the museum wasn't really going to be an option."
Since then, he has started marketing his new venture, "I Built That," with a blog and other promotional materials. Though he focuses on creating rustic, historically accurate buildings using antique construction methods, he also has constructed custom-designed tree forts, playhouses, and other modern buildings.
A construction built by Frederick Willis, a graduate of Southern Virginia University

"I pick up old, forgotten hand tools at antique malls — because some of them aren't commercially available anymore — and use them to turn straight up tree trunks into posts, hand split planks, fences and other stuff," he said.
Brinn Willis started her business in 2005, but didn't rely on it as a career until several years later. The week after she graduated from Southern Virginia in 2007, she began working full-time at Project Horizon, an organization that serves victims of domestic violence and sexual assault. Within a year, she became the disabilities services coordinator at the organization.
"I worked with people who had disabilities who were also victims of sexual assault," Brinn Willis said. "It was a relatively new program and I had the opportunity to build it from the ground up. It was actually the first disabilities program in Virginia that specifically worked with victims of domestic violence."
In 2010, she received the Pathfinder Award from the Virginia Sexual and Domestic Violence Action Alliance, honoring her for the groundbreaking work she did for an underserved population of Virginia.
"The family and child development major at Southern Virginia prepared me for my full-time job at Project Horizon and to recognize the importance of being a mom," she said. "It's not just being a homemaker, but it's being a teacher, it's being a counselor, it's being all of these things."
After her husband finished his master's degree and found full-time employment, Brinn Willis quit her job at Project Horizon to be a stay-at-home mom, pursuing her photography business on the side.
"That was always my goal: to leave work and stay at home with my kids and raise them," she said. "I've built my business to the point where I can be at home with my kids and I can help support my husband while he's building his own business. Everything has really worked out."
Brinn Willis, a graduate of Southern Virginia University who runs BMW Photography

In addition to running her business and caring for her family, she is now pursuing a master's degree in photography with a focus in documentary style photography from the Savannah College of Art and Design.
Both Brinn and Frederick Willis felt that their educational pursuits played a large role in their chosen career paths.
"One of the great things about getting a liberal arts education at Southern Virginia is that you can stick your hand in so many different jars," said Brinn Willis. "I was a family and child development major and an art minor. I was fascinated with people and with their feelings and emotions. I picked lifestyle photography because it's more than just taking a portrait, it's taking this passion of mine which is getting to know people — their stories and feelings — and then being able to capture these really special moments in their lives."
Frederick Willis said that his education at Southern Virginia "prepared [him] for this in so many ways."
"Oddly enough, writing plays a big role in what I do," he said. "I keep a blog about all the stuff I'm doing, what I'm building, and funny things that happen along the way. Lots of people email me, but the ones who mention the blog almost always buy something."
Brinn Willis said that she loves living in the Buena Vista, Va., area, especially because of the opportunity to be involved with her alma mater, Southern Virginia. She has spoken at the university's leadership lecture series and recently taught a photography workshop on campus. She said that putting on the workshop was "a really good experience" and that she hopes to continue collaborating with the university in the future.