Spotlight
Concert Chorale Performs with Liberty University, Roanoke Symphony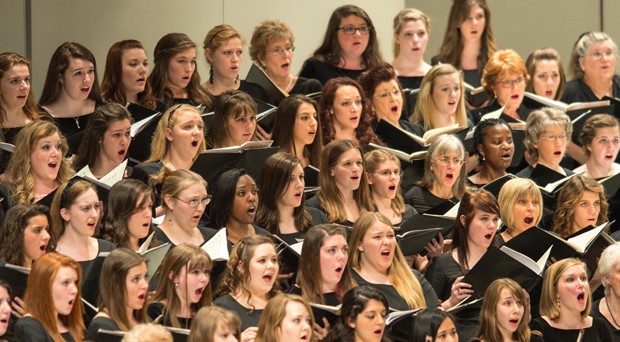 The Southern Virginia University Concert Chorale and Liberty University Concert Choir, along with the Roanoke Symphony Orchestra and Chorus and others, performed a concert last week in the Roanoke Performing Arts Theatre.
At the concert, titled "Beethoven's Choral Fantasy," Southern Virginia's Concert Chorale was featured in the Beethoven pieces "Symphony №7" and "Calm Sea and Prosperous Voyage."
This is the second year that Southern Virginia's Concert Chorale has performed with the Roanoke Symphony Orchestra, directed by Dr. David Wiley. Wiley also currently serves as director of New York's Long Island Philharmonic. He has received numerous awards, and has conducted in nearly every state in the U.S. and dozens of countries in Europe, Asia and Africa.
Dr. La Rae Carter, director of the Southern Virginia Concert Chorale, stated that she greatly enjoyed the experience of working with other directors during this collaboration.
"The association between music directors is unique," said Carter. "There is a collegiality because of our backgrounds in music, but there's also quite a spiritual connection. It was a very friendly, very warm, very giving experience."
Carter said that she loved the pieces the choir performed because they were "very energetic."
"Beethoven is always very exciting to sing because it's high, loud, and very challenging, especially when you do it in German," said Carter. "You really can get into these pieces, and the students just love them."
Camille Lee, a member of the Concert Chorale, said that she enjoyed the opportunity to collaborate with other choral groups, especially with Liberty University's choir.
"It's nice to be able to participate with another university, especially one that has similar values," said Lee. "Also, being able to sing with a professional orchestra is not something that a lot of students are able to do. The Roanoke Symphony is extremely good. It was exciting to be able to sing with them."
Carter said that it was an honor for Southern Virginia to be invited to participate in this concert and she appreciated the experience that the students in Concert Chorale had to participate with the other choirs.
"Singing with students from others schools is always a thrill," Carter stated. "We don't just stand as a choir, we are mixed with other groups, so we have the possibility of making friendships. Last year, one of my young men in choir threw his arms around me afterwards and said 'this is the best experience I have ever had.'"
Southern Virginia's Concert Chorale regularly performs throughout the year. Their final concert of the semester is today at 7:30 p.m. in Chandler Hall; admission is free.