Spotlight
Brydon Brett ('10) Creates, Promotes Uplifting Art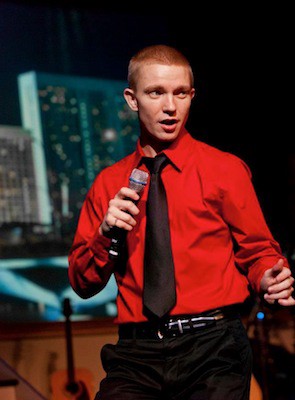 Brydon Brett ('10) has been performing professionally with his family, the Bretts, in Branson, Mo., for more than a decade — now, he is spearheading efforts to teach others how to become "artist-disciples."
Brett recently published his first book, "The Artist-Disciple: A Guidebook for Transforming the World Through Your Art." He said that the book is "the centerpiece [of a] a bigger movement that's happening all over the world." For several years, Brett has been teaching a course titled "The Artist-Disciple 101" to teach Latter-day Saint artists "foundational" principles of "artist-discipleship," many of which are covered in his new book.
Early next year, Brett plans to launch a second course, "The Artist-Disciple 102," which will cover the "tactical and technical" side of being an artist-disciple, helping artists "to monetize their dreams and to build habits that will make them successful in whatever industry they're involved in."
"The purpose of the artist-disciple movement is to mobilize, motivate, educate and unify the Latter-day Saint creative community and anyone with talents who wants to make a difference," said Brett. "The book — and the whole artist-disciple project — is really a call to action for artists to come together to create and consume more high quality media and art. Ultimately, what we're creating is a community."
Brett said that, though a musician and performer since childhood, he turned his focus toward athletics as a teenager. He said that he began attending Southern Virginia University in 2008 to play basketball. However, fellow student Joshua Hall ('09), who served as president of The Fading Point at the time, changed the course of Brett's life when he approached him and asked him to audition for the student a cappella group.
Brett and his close friend Dele Opeifa ('11), another member of the Southern Virginia men's basketball team, both decided to audition for The Fading Point.
"That was a decision that changed my life completely," said Brett. "Doing The Fading Point and basketball concurrently, I realized that maybe this music career thing was something I'm supposed to do for the rest of my life, a platform for me to have influence in the world. After my first year of basketball, I decided to make the shift and dedicate my extracurricular time to The Fading Point and develop my business in the music industry."
Brett soon became president of The Fading Point. During his participation in the a cappella group, The Fading Point began performing at numerous off-campus venues including regional "Super Saturday" events for Latter-day Saint youth and SoJam, a national collegiate a cappella competition, at Duke University. Brett said that being a member of The Fading Point was "crucial" for his growth as an individual.
This year, Brett has been nominated for Male Entertainer of the Year and Comedian of the Year in the Branson Show Awards. He previously received the Male Entertainer of the Year award in 2011.
In addition to performing, writing and teaching, Brett is co-founder of Upstream International, Inc. According to the Brett Family website, Upstream is "an entertainment and media company designed to produce and promote good, high quality family entertainment and media worldwide."
"We have a much bigger vision than just being one performing group," said Brett. "The goal of this company over time is to be the family entertainment and media company in the world. We want to produce shows, musical groups, and so forth. We really want this to become a force for good in the entertainment and media world. This was a vision that I started to formulate at Southern Virginia in my business classes."
Brett said that his business classes, and his entire experience at Southern Virginia, propelled him to his current pursuits.
"Southern Virginia was the turning point for me to see my personal mission and a vision for my life and helped me to gain the skills and breadth and depth of knowledge that I needed," said Brett. "Southern Virginia is absolutely foundational for everything that I'm doing right now. I absolutely believe in the education I got there."
Through a variety of channels, Brett plans to continue promoting "artist-discipleship" not only to entertain, but ultimately, to influence culture and society on a larger scale.