Spotlight
Alumnus Studies Architecture Abroad, Receives Award
While spending four months in Europe studying historic architecture, Bryce Pendleton ('10) received news that he was the recipient of the 2013 Bill Brown Award from Virginia Tech's School of Architecture and Design.
Each year the faculty of Virginia Tech's School of Architecture and Design present the Bill Brown Award to the second-year graduate student who best exemplifies the qualities of a successful architecture student and shows promise in professional practice of architecture.
"Bill Brown was the chair of the graduate architecture program at Virginia Tech for more than 20 years," said Pendleton. "This award goes to the student that has similar characteristics [to Bill Brown]. When I received the Bill Brown Award, I was told it was because I had brought a certain type of evenness to my studio… [and] showed potential to be a professional architect."
Pendleton, who is entering his third and final year of a master's program in architecture at Virginia Tech, said that becoming a professional architect has been a lifelong dream. He first learned about Virginia Tech's three-year architecture program while pursuing his bachelor's degree at Southern Virginia University, where he majored in art and politics, played on the basketball team, participated in student leadership, and graduated as valedictorian of his class.
Known for it's nationally ranked undergraduate architecture program, Pendleton explained that he specifically sought out Virginia Tech's graduate architecture program because of the school's "emphasis on lifelong learning and a liberal arts approach to architecture."
"I thought it would be an extension of my undergraduate education," said Pendleton. "And earning the Bill Brown Award just confirms to me that I had learned the skills necessary at Southern Virginia to become a successful student at Virginia Tech."
While studying abroad in Switzerland, Pendleton said that his class was assigned to study "Hippias Major," one of Plato's writings on beauty, when he realized that the "well-rounded liberal arts education" he had received as an undergraduate made him more capable of understanding that text and provided "massive benefits" for him as an architecture student.
"As the faculty for our residency study abroad program at the Center for European Studies and Architecture in Riva San Vitale, Switzerland, I enjoyed working with Bryce as he developed as an architect, through all aspects of our program both when traveling and when in residence," said Hunter Pittman, an associate professor in the School of Architecture and Design at Virginia Tech. "He demonstrated a drive to develop his already strong drawing ability into a force for his studies of architecture through sketching and was a pivotal voice asking questions and engaging in discussions about both the physical and theoretical aspects of architecture."
Pendleton said that the "small class sizes" and the "rigor of the academic experience at Southern Virginia" prepared him for graduate study at Virginia Tech. Two of the professors who best helped him to progress at Southern Virginia were Doug Himes, assistant professor of art, and Dr. Jeremiah John, assistant professor of politics.
"Professor Himes mentored me in the art program," said Pendleton. "He's the one who really challenged me to come out of my shell. He taught me to see beauty in a lot of different ways and to live artfully. From Professor John I really learned to look at things critically… He taught me to look at everything from multiple perspectives, to think for myself, to challenge what I was learning and to synthesize information without any prejudice."
Himes said that Pendleton "was an ideal student" who seems to be "thriving" in and "enjoying" his graduate program in architecture. At Himes' request, since graduating, Pendleton has returned to Southern Virginia twice to give presentations geared toward helping art majors succeed in the annual Senior Art Show.
"Bryce always did more work than I asked, which was unusual," said Himes. "He always had questions and he would challenge me with his questions… He's well on his way now: he's a good thinker, he's creative, he's a tireless worker. We just sit back and watch it all happen."
Pendleton said he enjoys that architecture is a subject that allows him to use the artistic skill that he developed as an art major in a way that can "benefit the world," a desire he gained from learning about social, historical, political and philosophical issues in his politics major.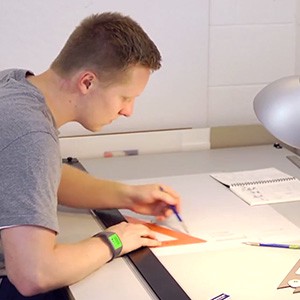 Even though he feels "architecture is something that human beings tend to take for granted," Pendleton said that he wants to become a professional, practicing architect because he believes that "when a space is well designed, it has a transformative power to uplift people and to improve their quality of life."
In his personal life, Pendleton said that he felt blessed to have a supportive wife, Neely — a fellow Southern Virginia graduate.
"Neely, my wife, definitely has a lot to tease me about because I'm kind of nerdy when it comes to my study of architecture," said Pendleton. "All joking aside, I couldn't have asked for a more supportive companion… She's always constantly encouraging me to continue my education."