News Release
98 Percent of Seniors Give High Ratings to Quality of Relationship with Professors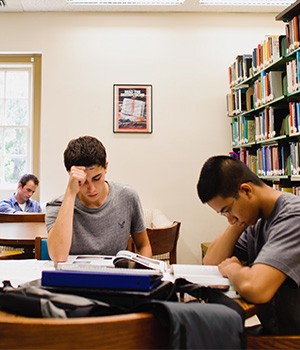 On the 2012 National Survey of Student Engagement, 98 percent of Southern Virginia University seniors rated the quality of the relationships that they had with their professors above average — compared to 81 percent of seniors at all participating NSSE institutions.
When asked how available, helpful and sympathetic their professors were, nearly all Southern Virginia seniors rated their faculty above average and the majority of these seniors gave Southern Virginia professors the highest rank possible.
"This reflects 'the genius of small,'" said Dr. Alan Whitehurst, associate provost and professor of computer science at Southern Virginia. "Having a personal relationship with your faculty, having them become more than just lecturers, but partners in your education — mentors — can have long term effects. Not only do you learn your material better, but you get better references and opportunities outside the classroom. You get the benefit of those relationships and those examples to a much greater personal degree than you would at other institutions."
The National Survey of Student Engagement annually collects information from first-year and senior students about the nature and quality of their undergraduate experience. In 2012, more than 300,000 students from 577 institutions in the United States and Canada responded to the survey. Southern Virginia outperformed the average for all participating schools in every major category of the survey — level of academic challenge, active and collaborative learning, student-faculty interaction, enriching educational experiences and supportive campus environment.
"What I love about classes at Southern Virginia is that I feel like the teachers really care," said Gloria Bowden, a sophomore from South Jordan, Utah, who transferred to Southern Virginia in 2012. "They take the time to engage me on a personal level. The fact that they care that I'm in class and that I understand what they're teaching — that's what has made me enjoy this university as opposed to other universities that I've attended."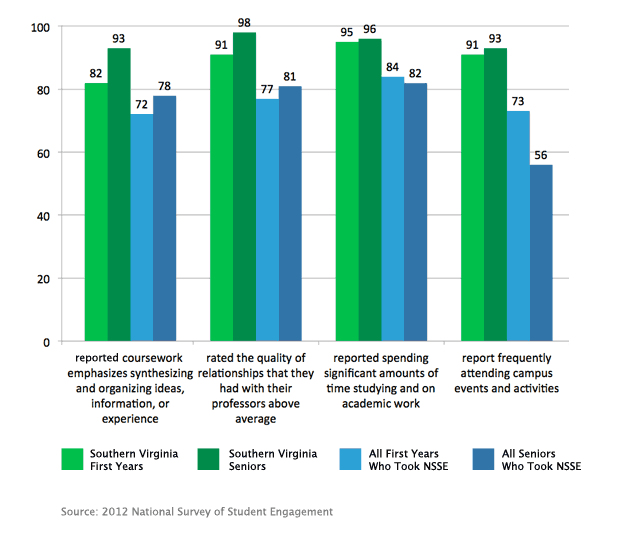 In addition to reporting a high level of faculty-student interaction, Southern Virginia students reported appreciation of the relationships they had with other students. Ninety-one percent of seniors at Southern Virginia rated the quality of relationships with other students above average, compared to 82 percent of seniors at participating NSSE institutions. Tyler MacKay, a senior majoring in business management and leadership at Southern Virginia, said that he appreciated his sense of belonging on campus and the relationships he has forged with other students.
"Before I went here, I attended a large university and I felt like I got lost," said MacKay. "Then I came here, and now I know everyone. I may not know all their names, but I at least know their faces. That has enriched my experience here along with the connections that I've developed with professors who have lifelong experience and offer valuable direction that I can learn from."
Bowden said that the professors and small class sizes at Southern Virginia combined with engaging course content provide an excellent academic experience for students.
"Coming here helped me realize that studying isn't just taking notes," said Bowden. "It's internalizing what I understand and what I've grown to learn in these classes. Suddenly it wasn't just about getting a good grade — it was about what I can really learn from all this. I've always been a straight–A student, this just took everything a step further. My classes at Southern Virginia helped me realize that I owed something to God as well as to myself in regard to my education."
Both first-year students and seniors reported especially high appreciation of the spiritual environment on Southern Virginia's campus. Among first-year students, 94 percent reported that the university helped them develop a personal code of values and ethics, and 91 percent said that the university helped them develop a deepened sense of spirituality — compared to 61 percent and 37 percent, respectively, of first-year students at participating NSSE institutions. Additionally, 96 percent of seniors participated in activities to enhance their spirituality, compared to 33 percent of seniors from all NSSE institutions.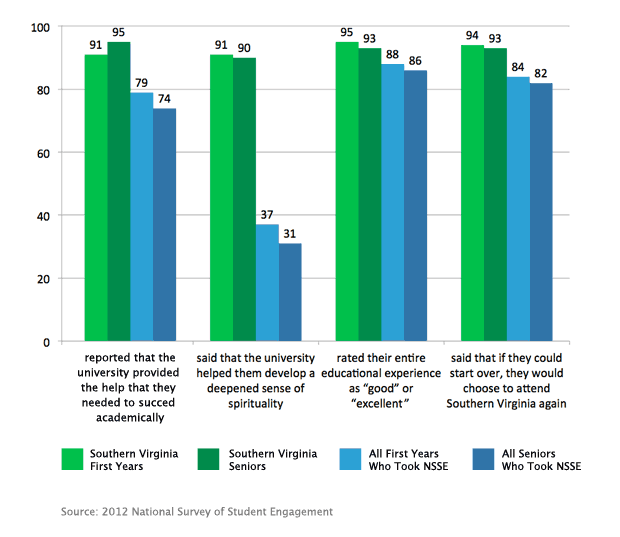 "The fact that our students are coming away with a greater sense of morals and ethics and an enhanced spirituality validates why we're here," said Whitehurst. "We're unique in the fact that we have an LDS environment and offer a liberal arts education. Not only these survey results, but also the level of participation in Institute classes and the YSA wards are indicators that this is a place students come to be in a good environment, get a great education and have a spiritually edifying experience — to have their testimonies strengthened. And that is why we're here."
Students also reported that Southern Virginia's coursework engaged them in meaningful ways more than students at other institutions. Ninety-four percent of Southern Virginia seniors said that they felt coursework emphasized analysis and synthesis of ideas, as well as making judgments about the value of information, arguments or methods. Overall, ninety-four percent of Southern Virginia students surveyed rated their entire educational experience as "good" or "excellent."
"Our results show that students feel they are being well prepared and their ability to write is being enhanced much more than their peers at other institutions," said Whitehurst. "As we look at trends over the years, there has been gradual but steady improvement from year to year, which indicates again that we're conscientiously looking for ways to enhance the experience. We're doing that campus-wide and we keep getting better and better."