Spotlight
2013 Service Award Recipients Announced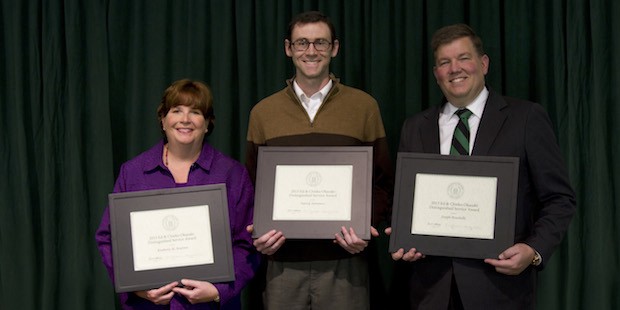 Southern Virginia University Provost Madison U. Sowell today announced the recipients of the 2013 Ed and Chieko Okazaki Distinguished Service Award and a Certificate of Appreciation for Meritorious Service to Church, Community, and Country.
The Okazaki award for distinguished service, now in its seventh year, is given annually by surprise announcement to representatives of Southern Virginia's student body, staff and faculty.
This year's recipients include Patrick Summers, a junior from Phelan, Calif.; Joseph Bouchelle, associate dean of students; and Kimberly Kearney, director of teacher education. Nominations for award recipients were opened up to all Southern Virginia students, faculty and staff.
Additionally, Provost Sowell presented Walter E. Ralls with a Certificate of Appreciation. Ralls, a veteran of the U.S. Navy, worked as an administrator at Southern Virginia from 1996 until he retired in 2010. After his retirement, he volunteered as a defensive line coach in the university's football program for two seasons. He also served for many years as president of the Buena Vista Virginia Stake of The Church of Jesus Christ of Latter-day Saints until he was released last month.
The Okazaki award's namesakes are Ed, a Japanese–American who served in a highly decorated unit of the U.S. Army during World War II, and his wife, Chieko, who was an author, educator and former first counselor in the Relief Society general presidency of the Church.
The award honors exemplary leadership and service. For student recipients, the honor appears on their permanent transcripts and ranks with valedictorian as the highest distinction afforded to a Southern Virginia University student.
Patrick Summers
Summers, a music major at Southern Virginia, recently spent numerous hours serving the university's theatre program as orchestra conductor for the musical, "Hello, Dolly!" this semester. He also has served in numerous capacities within the university's music program.
"'Since stepping foot on this campus, [Summers] has been the epitome of [a] leader-servant,'" said Provost Sowell, quoting the members of the campus community who nominated Summers. "'He approaches every task with a humility that is very unlikely in someone with his gifts. He is kind and most accommodating to those with less ability . . . [Summers] is an accompanist of the first quality, a conductor, a singer, a composer and arranger, an organist, a tutor, and an advocate of the principles we hold dear at this university.'"
Joseph Bouchelle
Bouchelle has worked at Southern Virginia since 1997. In addition to his current role as associate dean of students, he has served as an instructor of English and education, admissions officer, registrar, soccer coach, and advisor to the student comedy troupe "Shenanigans." He was named national coach of the year when he led the Southern Virginia women's soccer team to win the national small college championship in 1999.
A graduate of the Virginia Military Institute, Bouchelle served in the United States army for four years, attaining the rank of captain. In addition to serving his country, Bouchelle is active in serving his community and serves as a board member of "Celebrate Buena Vista!" a non-profit organization that promotes Buena Vista, Va.
"'[Bouchelle] basically does the work of several able-bodied persons on campus,'" Provost Sowell said, quoting those who nominated Bouchelle. "'Long after most of the university's employees are in bed, [he] is . . . supervising the evening activities, dances and gatherings that go into the late hours of the night. . . . He also advises the Honor Council and puts in many late nights and weekends in that role as well.'"
Kimberly Kearney
Kearney joined the faculty at Southern Virginia in 1994. She previously taught in several of Virginia's public schools for 10 years.
In addition to directing the university's new teacher education program — through which students can now receive teacher licensure in Spanish, music, or elementary education — she is an assistant professor of education. She teaches education courses on topics including music, art, science, math and language arts.
"[Kearney] is one of the longest-serving members of our current faculty," said Provost Sowell. "'Her continuous dedication to the program [she founded] has been phenomenal. While teaching her own courses. . . she has worked evenings, weekends, summers, and over holiday breaks on [her academic] responsibilities. She also continues this commitment while being a supportive mom who participates in scouting, PTA, fund-raising, church, and other activities.'"