Spotlight
10th Art Gala a Celebration of Southern Virginia
Southern Virginia University faculty, staff, and students gathered with prospective students and friends of the university to celebrate the accomplishments of Southern Virginia and a decade-long tradition of showcasing beautiful artwork at the 10th Annual Shenandoah Invitational Art Gala.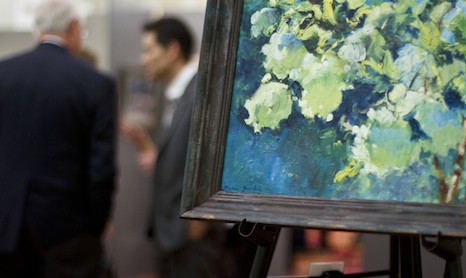 Guests had the opportunity to view artwork by more than 40 prominent artists, many of whom are Latter-day Saints. Forty percent of the cost of each piece sold at the art gala is used to fund scholarships at Southern Virginia. In addition to the artwork at the gala, this year, a number of additional pieces are currently available for purchase online to raise funds for Southern Virginia.
Richard Marriott began the evening's program by welcoming guests and reading a list of recent university achievements.
"We are developing young people with good character," said Marriott. "Thank you for helping these young people get into school and for your genuine support. We love you."
After an opening musical number — Moses Hogan's "I'm Gonna Sing 'Til the Spirit Moves in My Heart" — by the university's Concert Chorale, Provost Madison U. Sowell recognized the many artists in attendance at the event, including Walter Rane, the featured artist at the gala.
Sowell said that Rane, a prominent Latter-day Saint artist, "wants to be remembered as someone who painted his convictions." The event's program stated that for Rane, "expressing his feelings with paint remains an overwhelming passion of his life, whether inspired by the early morning light over an urban landscape, fresh cut peonies on the kitchen counter, people performing everyday tasks, or scripture narratives that illuminate eternal concepts."
As has become tradition at the art gala, Greg and JaLynn Prince chose a purchase prize — a painting that they purchase and donate to the university. This year, they chose "Moving Angels" by J. Kirk Richards.
"It is so important to have fine art," said JaLynn Prince. "We love the way that the action and the feeling and the ethereal quality are portrayed in 'Moving Angels' and we hope that you will enjoy it for years to come."
After guests enjoyed a dinner catered by the Fairview Park Marriott, the Concert Chorale and a number of student soloists performed pieces including Kevin Memley's "Uniamo in Amore," a medley of music from "Les Miserebles," and the university's traditional rendition of "Shenandoah."
President Paul K. Sybrowsky gave an address at the gala titled, "Advancing the Genius of Small." He began by quoting Doctrine and Covenants 109, saying, "We have been taught by the Lord that we are to 'organize' ourselves, that we are to 'prepare every needful thing.'"
"How are we to do that? We are to learn 'out of the best books,'" President Sybrowsky said. "We are commanded to 'seek learning by study and also by faith.' 'By study' is scholarship; 'by faith' is discipleship. This is the mission of Southern Virginia University: to have this wonderful combination of scholarship and discipleship that will come together seamlessly so that the two work so closely that sometimes it's hard to figure out if there's a division."
After discussing two of the university's core values — scholarship and discipleship — he talked about the university's goal to "prepare men and women to be leader-servants."
He concluded by asking prospective students to "come and join with us," assuring parents that the university "will prepare your sons and daughters for life," and inviting others to give to the university, which, he said, "is worthy of your treasure."
For more information, visit svu.edu/artgala.