Archived
Women's Cross Country Repeats as National Champions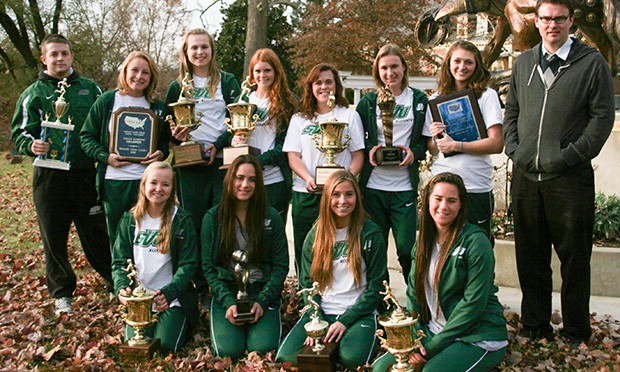 Fueled by a career performance from junior Kera Macfarlane-Neilson, the Southern Virginia University women's cross country team repeated as United States Collegiate Athletic Association national champions on Nov. 9 in Lake Placid, N.Y.
Southern Virginia women's cross country, which features ten Latter-day Saint scholar-athletes from six different states, has now captured 11 USCAA national titles over the past 15 years.
"We ran a great race today," said second-year Head Coach Logan Davis. "Our goal and focus all season long has been repeating as national champions. Today was especially rewarding since this was by far the toughest and deepest meet the USCAA has ever held."
The Knights defended their 2011 crown by finishing a snowy 6K course in upstate New York ahead of 16 other small-college teams. Friday's national meet was the USCAA's largest to date featuring 29 different schools, including 17 complete teams and 169 total runners.
Southern Virginia's Macfarlane-Neilson (Yorktown, Va.) led the Knights for the first time in her three-year collegiate career with a breakthrough performance finishing fourth overall with a personal record 6K-time of 25:15.93. Macfarlane-Neilson improved her time from last year's championship meet on the same course by an impressive 1:18.19 and earned a spot on theUSCAA All-American First Team.
"Kera [Macfarlane-Neilson] has worked hard all season long and it showed," said Davis. "She's shown steady improvement throughout the fall, but today was something special. To run a PR in these conditions, under these circumstances is amazing. We wouldn't have won today without her performance."
Tori Faulkner (Mesa, Ariz.) and Leah Huber (Castle Rock, Colo.) also placed in the top ten for Southern Virginia with sub-26 minute times of 25:38.52 (9th place) and 25:42.25 (10th place). Faulkner and Huber both earned All-American Second Team and All-Academic honors on Friday, in addition their previously awarded spots on the Capital Athletic Conference's All-Conference Second Team.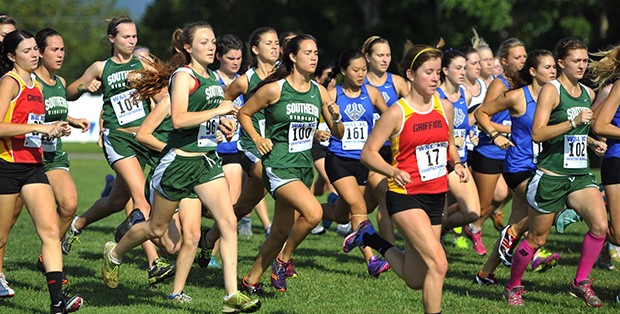 Sophomore Shelbi Prince (Mexico, Mo.) and freshman Jacey Moore (Mesa, Ariz.) closed out the scoring for Southern Virginia as the pair entered the chute less than a second apart placing 21st and 23rd respectively. Prince joined Faulkner and Huber on the USCAA All-Academic Team, while Moore joined them on the CAC All-Conference Second Team after leading the Knights at the CAC Championship meet on Saturday, Oct. 27.
"Three of our top four finishers today improved upon their times from last year's championship race," said Davis. "That's a tribute to how hard our team has worked all season. It wasn't easy, but today's win was worth the blood, sweat and tears it took to get here."
The Southern Virginia women's cross country team had a team total of 67 points on Friday — 27 points ahead of second-place finisher Saint Mary-of-the-Woods College.
Southern Virginia's highest overall finisher of the day was returned missionary Patrick Gonzalez (Riverside, Calif.), who placed third overall in the 26-team, 182-runner men's race with an 8K-time of 28:09.89 — the sophomore's second-fastest race of the season.
His top-five finish placed Gonzalez on the All-American First Team in addition to his spot on the CAC All-Conference Second Team and helped the Knights to a tenth-place team finish with 286 total points. Southern Virginia junior Dan Fotheringham (Salt Lake City, Utah) also earned a spot on the USCAA All-Academic Team.