Archived
When Ben Met Mary: Southern Virginia is for Lovers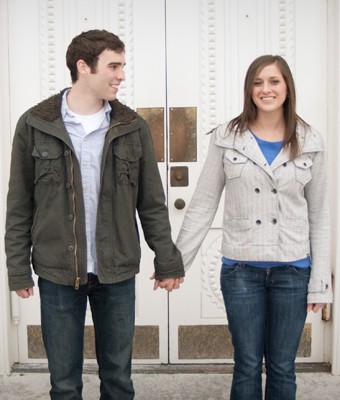 Where does love begin? A small liberal arts college campus built in the late 1800s, painted red, the color of adoration, provides the perfect setting for a romantic stroll, holding hands in the silver moonlight.
But are there enough fish in the proverbial fishpond to find the one who makes the stars truly shine when Southern Virginia University's student population is 800 or less? Contrary to the odds — as love often is — Virginia really is for lovers.
When Ben May transferred to Southern Virginia from Brigham Young University, he came to play soccer, not because he was looking for love. He spent the late summer of 2009 practicing with his new teammates, one of whom had a particularly attractive girlfriend. Her name was Mary Massey.
Mary was a junior from Mesa, Ariz. pursuing a liberal arts major and a Spanish minor. Not love. Although she was in a relationship with one of Ben's teammates at the time, she says what she wanted more than anything was really just a friend.
"We knew each other as acquaintances, and then I wasn't dating his friend any more," Mary said.
Ben took action.
"She was beautiful, and we got along really easily. We started hanging out a lot and became really good friends," Ben said.
The two explored the Shenandoah Valley together, trekking through the august Blue Ridge Mountains, going on quests in search of delectable foods — and then eating the sweet and savory treasures — and admiring the splay of lights from the parkway at night. Then, shortly after, their relationship bloomed into something even more splendid than friendship. In mid-October of 2009, Ben and Mary officially started dating.
But love doesn't come without its crossroads. Ben wasn't sure that he was going to stay at Southern Virginia University.
"I was here for my first semester, and I was really torn between deciding to stay at Southern Virginia or to go back to Brigham Young University, and then Mary complicated it a little more. I was talking to my bishop, Bishop Stuart, and threw the issue by him. He said, 'Well it's simple, do you love Mary?' I was sort of stunned at first, but in my head I was like, 'Yeah, I do.'"
A few days later, Ben told Mary about his meeting with the bishop. "I told her that he asked me if I loved her."
Mary asked, "Well, what was the answer?"
"I told her that I did," Ben said, smiling.
For New Years 2009, Mary was invited to the Mays home in Seattle. Ben had plans for a new year unlike any other.
"I had purchased a ring," Ben said.
The couple visited the local attractions, Pike Place Market, the Space Needle, Alki Beach — all building up to the moment when the sun set overlooking the Seattle Skyline.
"He was shaking," Mary smiled.
"I told her I was just cold," Ben added, "And then I proposed."
The rest is history.
Ben and Mary were married on May 14, 2010, in the Mesa Arizona Temple of The Church of Jesus Christ of Latter-day Saints, and life has only been getting better since then, they say.
Ben and Mary still frequently walk the streets of Buena Vista, Va., hand in hand, and now work together as the head resident advisors of Craton Hall. Often, they can be found sitting side by side, smiling and chatting in the Dining Hall and the Kimball Student Center, enjoying each others' company over one of their favorite rituals: dinner.
"We really like to eat food together," Mary laughed, "We like finding new food places to eat, too. Yeah, we're fatties."
After he graduates this December, Ben plans to attend medical school, which will determine where the couple goes next. However, there will always be a special place in the Mays' hearts for the school that brought them together.
"Virginia is for lovers." Mary smiled. "It's a good school, with good bishops."
Ben and Mary are eternally happy that their paths crossed in 2009. A complimentary pair, Ben said Mary is an inspiration to him. "I'm lazy. She's a hard worker. So she's inspiring."
Likewise, Mary admires Ben for who he is. "He's very personable; he's good with people, which I'm not naturally," she said.
It doesn't matter how many fish are in the sea, Ben affirms, so long as two fishes are at the right place at the right time. Southern Virginia University is no exception.
"[There were] 15,000 girls at BYU and not one was right for me," Ben said. "But I came out here and found the right one."