Archived
Washington D.C. Temple President and Matron to Speak at Devotional Feb. 3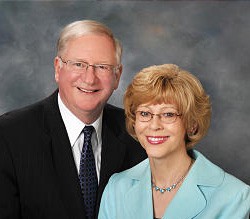 Brian and Sue Swinton, president and matron of the Washington D.C. Temple of The Church of Jesus Christ of Latter-day Saints, will give devotional addresses entitled, "The Temple: A Portal to Heaven," on Friday, Feb. 3, at 11 a.m. in the Stoddard Center at Southern Virginia University.
Brian C. Swinton is currently the principal of Brian C. Swinton and Associates. He has founded a real estate development company and worked as senior executive for three of the largest publicly traded companies in the field of senior housing, including Marriott and Sunrise. He holds degrees from the University of Utah and Harvard Business School.
He has served in the Church in several capacities including branch president, bishop, high priest group leader, stake president and temple ordinance worker. As a young man, he served a mission in London, England.
Later in his life, he and his wife were called to preside over the Washington D.C. Mission for three years. As a part of this calling, he also was responsible for the Washington D.C. Temple Visitors' Center. In 2008, the Swintons directed the St. George Utah Temple Visitors' Center, and were recently released in 2011.
Sue S. Swinton also graduated from the University of Utah, where she met Brian and majored in elementary education.
In the past eight years, she has served the Church as ward and stake Relief Society president and as a seminary teacher. Outside of these callings, she has supported her husband and served alongside him in their many roles.
Together, the Swintons have six children and 18 grandchildren.
Community members and Southern Virginia faculty, staff and students are invited to hear forum and devotional speakers each Friday morning at 11 a.m. in the Stoddard Center. Recordings of past forums and devotional speeches may be accessed online.