Archived
Student A Cappella Group Releases First Album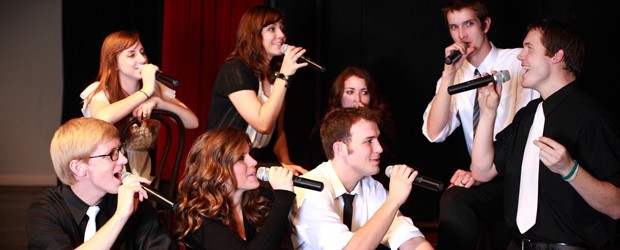 Southern Virginia University's student a cappella group, The Fading Point, last week released an EP album that is available as a CD and on more than 20 music download websites including iTunes and Rhapsody.
"Listeners can expect a sample of The Fading Point's upbeat fun side, as well as the spiritual side," said Justin Smith, advisor and manager of The Fading Point, who also is a member of the well-known contemporary Christian group Jericho Road. "The spiritual aspect is a big part of what the group is all about. They perform fun numbers, but they also reach out to youth and give them inspiring messages."
The group's first professionally recorded album contains five tracks, "Ain't No Sunshine," "Amazing Grace," "Come Thou Fount," "Breakeven" and "Waiting on the World to Change." These songs provide a glimpse of the group's style — a blend of contemporary pop and alternative rock with original arrangements of traditional spiritual songs. James Gammon Productions, located in Charlottesville, Va., recorded the album in June 2011.
"Our producer was really talented and gave good feedback," said Ashley Kazimer a liberal arts major currently in her fourth year as a member of The Fading Point. "If there was something I didn't like, he would either give me his opinion or let me rework it until I liked the sound."
The Fading Point travels across the East Coast to perform 10 to 15 shows each year. They regularly provide youth with a one-day experience called Super Saturday, a faith-based mini-conference featuring workshops, activities, a concert and a dance. Last year, The Fading Point performed for approximately 6,000 youth from more than 46 stakes.
Brady Anderson, a business and Spanish major from Buena Vista, Va., said that his favorite part of being in The Fading Point is being able to perform for youth. "We can reach youth through a different medium than most can," Anderson said. "I think that the CD will allow people to know who we are before we get out there to perform for them."
Anderson is the president of The Fading Point. He and Kazimer are the only members of the current group to have participated in recording the album last year.
"I'm excited that we had the album produced this last year to show the new group this year — we have six new people — where the group has been and where it will go," said Kazimer.
Since the group's beginning in 2006, The Fading Point has been largely a student-run effort. All but one of the songs on the new album were arranged by Southern Virginia students.
"The group does a great job of being self-driven and the album is really representative of the group," said Smith. "It's really their project — something that we are proud of. It 's a good sounding album, both the solo voices and the blending of the group. What you hear on the album is what we featured last year, a lot of really talented, unique sounding voices. Now listeners finally have something that they can take home with them and listen to regularly — something for any mood they're in."