Archived
Southern Virginia Presents "As You Like It" Feb. 17-18, 23-24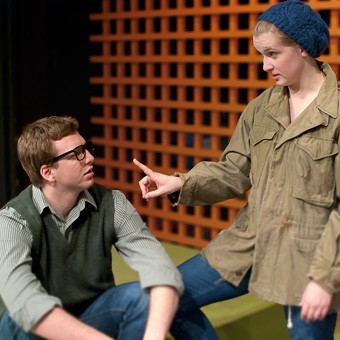 Southern Virginia University Theatre will present a digital-age staging of William Shakespeare's romantic comedy, "As You Like It," on Friday and Saturday, Feb. 17–18, and the following Thursday and Friday, Feb. 23–24, at 7:30 p.m. in Chandler Hall.
"Shakespeare might seem irrelevant in today's ramped-up culture of text messaging, MP3 players, the Internet and Skyping, so I wanted to create a show that would appeal to our university audience as well as those in the community who already know and love his plays," said Robert Stoddard, the show's director and associate professor of theatre at Southern Virginia. "The story of 'As You Like It' is a perfect fit for this kind of approach. The characters seem right at home using smart phones and Facebook and Twitter."
The story follows Rosalind, one of Shakespeare's most famous female characters, who falls in love with Orlando but is forced to flee for her life to the forest of Arden disguised as a man. The plot unfolds with Shakespeare's typical flair for mistaken identity when the love-smitten Orlando and Rosalind meet in the woods by chance.
"I enjoy the complexities that are within every single character," said Greta Goesch, a double major in theatre and liberal arts from Woodbridge, Va., who will play the role of Rosalind. "The main story follows Rosalind and Orlando, but every character has such an interesting story that you want to follow and embrace. This play has opened my eyes to how you can take pieces of each character and relate it to yourself."
The production features a contemporary set design in iPod colors by Matthew Georgeson, visiting assistant professor of theatre, and a cast of seventeen student actors and Stoddard, who will play the role of Jacques. Goesch said that she enjoyed having her professor and director in the cast.
"It's great to see him do all of the things he always asks of us and to watch him leave his obvious comfort zone," said Goesch.
Tickets for "As You Like It" are $7 for the general public and $5 for senior citizens and Southern Virginia students, faculty and staff. Tickets may be purchased in advance by calling 540–261–8405 or at the door prior to each performance.